Hire the best pest control services in South Delhi through ZoopGo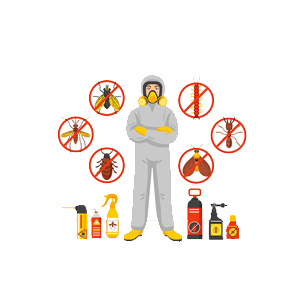 A quintessential home is what dreams are made of. However, cleaning and hygiene practices are not enough to create a great home. So here, a professional pest-free solution is necessary to keep your haven free of unwanted guests. Pest control ensures a clean and disease-free space.
The process is a must to keep household and commercial properties secure and protected from invaders. If you don't take enough measures to keep these away, they will make themselves stronger in your home and create serious hazards. Hence, taking preventive steps right during the first signs of their presence is compulsory to stop them in the first place. When it comes to pest control and management, a leading company should be your only choice. We at ZoopGo connect you with professional pest control in South Delhi to provide instant solutions for your house and workspace pest problems.
Why should you hire pest control treatments in South Delhi via ZoopGo?
You can't shun the persistent pest away with DIY methods. Hence, you need top-notch pest control services in South Delhi to get rid of them. You can hire many pest control treatments like ant and bugs control, cockroaches & rat control, lizard control, etc., through ZoopGo.
Why should you choose ZoopGo for pest control in South Delhi?
One-stop solution for pest control services: You can get all kinds of pest control solutions like bugs control, cockroach control, lizard control, termite control in South Delhi under one roof.
Round-the-clock customer assistance: Our customer care support team is available 24x7 to cater to your pest control needs and solve your queries through email, calls, and chats.
Professional services: Service providers listed on our website are pre-verified and leading players in the pest control and management industry, dedicated to providing you with the best cockroach control in South Delhi.
Cost-effective services: Our team, after filtering your pest control needs, will help you connect with the best service providers in your budget.
Instant free quotes: You can avail four free instant quotes from the top pest control service providers in South Delhi through us by filling up a form. You can also check and compare them and go with the one that matches your preferences.
User-friendly dashboard: Our unique dashboard feature helps customers check the contact information and other details of cockroach control in South Delhi and pest control treatments with their reviews.
What are the Approximate Pest Control Charges in South Delhi?
Charges for pest control services in South Delhi vary on several factors:
       Size and stage of pest infestation
Approximate rates of pest control services in Delhi begin from INR 650 and can go up to INR 10000.