Search and Hire Top Makeup Artists in Secunderabad to Enhance Your Looks Through Zoopgo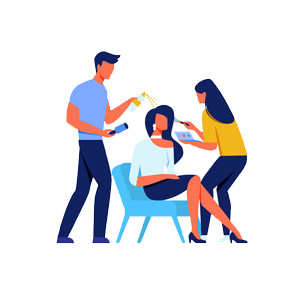 Who does not want to add stars to their personality, enhance their looks and most importantly get tons of appreciation. It is a dream of every individual, isn't it? So, if you will get a chance to cherish your special days and get the beautiful looks from the pre-wedding shoot to the wedding or the reception day then you will need to ponder over hiring the top makeup artists in Secunderabad that will make your days more exhilarating and great. 
End Your Search for Best Secunderabad Makeup Artists From Zoopgo 
It is extremely important to get your makeup done by professional artists who are well trained and ensure you have a hassle-free experience. If you are finding it quite challenging to find the best makeup service providers in secunderabad, then there is no need to take any stress as Zoopgo is here to bail you out from this tough situation. The charges of Secunderabad makeup artists are competitive and within your financial budget.  
Just fill up a form and within minutes, get connected to the experienced makeup artists offering quality services near your area. Finding the makeup service providers in Hyderabad from Zoopgo is quite easy, like making a cup of noodles in just 2 minutes.  
Top Tips by Makeup Artists in Secunderabad to Enhance Looks For Special Day 
Get the Branded Cosmetic Products: It is one of the most important points to be taken into consideration. You must ask the makeup artists in Secunderabad to use only the branded products as it will not only accentuate your personality but also give you a sparkling picture to cherish forever. 
Go for the Monochromatic Looks: You need to be ready for the monochromatic look of your makeup and hairstyle. These are basically two things that will exaggerate the beauty of yours and accentuate the highlights of the face.
Style yourself with some bling: Once the top makeup artists in Secunderabad come to your doorstep, then you need to style up yourself with some of the bling on your face and you need to ponder over the other accessories as well to give you more appreciation from the guests and have a hassle-free experience. 
Besides this, if you have any other special requirement with regard to the usage of the makeup products according to your skin tone or any other thing, then discuss the same with the makeup artist. Overall, you need to ponder over the above-mentioned points and if you are looking for the best makeup artists in Secunderabad and have a memorable experience to treasure forever. 
Zoopgo: Your Perfect Companion for Finding and Hiring Professional Makeup Artists in Secunderabad 
If your wedding date has been fixed, then do not think any further. Do not delay in hiring the professionals as they remain extremely busy during the peak season. Just fill up a short form, hire the verified makeup artists in Secunderabad and make the heads turn during your big day.