Hire professional makeup artists in Banjara Hills only with ZoopGo!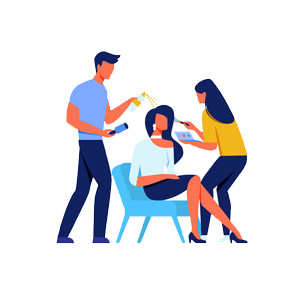 Makeup is an art like painting and sculpture. Although you have the best makeup kit, you can't adequately wear makeup until and unless you are a pro. Therefore, you must approach a makeup artist when it comes to wearing makeup on your special day. With that said, Banjara Hills, Hyderabad's one of most affluent neighbourhoods, has many makeup artists, making it challenging for them to pick the best. It's where we at ZoopGo, India's prominent virtual marketplace, enter the scene. We help our customers to discover and book the best makeup artists in Banjara Hills to get the desired look.
Choose the best bridal look with professional makeup artists in Banjara Hills!
Are you a bride-to-be? Are you confused between HD and Airbrush makeup? Don't worry! Our makeup artists will check your skin and help you to choose the best makeup to get a glam look. As far as HD and airbrush makeup is concerned, airbrush makeup suits oily skin, whereas HD makeup suits all skin types. Additionally, makeup artists suggest clients with sensitive skin choose mineral makeup as it lends a natural glow. Moreover, you can book certified experts for makeup and hairstyle at home services.
Get the desired bridal look with top makeup artists in Banjara Hills!
According to the best bridal makeup artist in Banjara Hills, modern brides don't have preconceived notions about the bridal look. With global in her mindset, today's brides are forward-thinker, well-travelled, and confident. They desire a look that reflects her personality and not conventions.
As per top bridal makeup artists in Banjara Hills, bridal makeup is no more a standard eyeliner and a lip formula. It has been a beautiful transition to witness. They suggest brides choose a look that best reflects their persona instead of jumping on the bandwagon just by emulating trends. Moreover, you also can book a freelance wedding makeup artist in Banjara Hills with us. Here we spotlight makeup artists' top-most favourite makeup looks:
1. Minimalism
2. Fresh Dewy Look
3. Bold Eyes, Nude Lips
4. More of Kohl & Lashes
5. Winged Eyeliner & Blushed Cheeks
Factors determining makeup artists' charges in Banjara Hills
Makeup artists' prices depend on their popularity, professional experience, location, type of makeup, etc. Standard makeup artists' charges can vary between INR 5000 and INR 30000. Are you looking for a bridal makeup artist near me with a price? Fill your query with contact information to get the first-free-four-quotes from certified and top-notch makeup artists to compare services and prices and grab an attractive deal. Additionally, you can book professional pre-wedding makeup artists in Banjara Hills through us at cost-effective prices.
Exclusive offerings for beautiful clients just like YOU!
First free four quotes from 100% certified makeup artists
A fantastic opportunity to compare and save up to 25%
User-friendly review dashboard for actionable insights
Friendly round-the-clock customer assistance
Last minutes booking facilities are available
Happy to connect!
Call us at 1800-12312-9655 (Toll-free) or share your requirements by completing the available quote request form on our website to book the best bridal makeup and hair stylists in Hyderabad. Additionally, you can write to us at [email protected].