Every Bridal Makeup Artist in Hyderabad has something unique to offer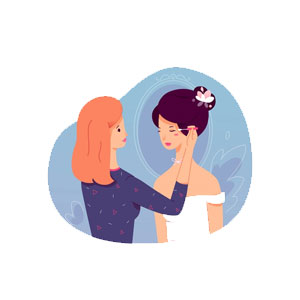 Makeup is an important activity for most ladies and makeup at weddings and that too for the bride is extremely important. The Bridal Makeup Artist in Hyderabad are never short of work with so many weddings happening in the city all year round. The makeup on the wedding day requires special attention and these service providers will treat you like the superstar for the day. Most of them are available anywhere and anytime in the city, as long as you book them in advance. They work from their boutiques and they will come to your premises too. In case of weddings, the bridal makeup happens 90 percent of the time at the bride's address.
You are looking for the best and you will get the best makeup artist in Hyderabad
Makeup preparations vary from country to country and in the case of India from state to state. There are specialist Best South Indian Bridal Makeup Artists in Hyderabad, who give brides the traditional look for the day. These artists mostly work on the face and hair of the bride. Though they are connected with excellent mehndi artists too. They will often ask to take a look at the bridal dress, so they know what kind of makeup will look best on the lady. They will work on your skin, lips and eyes. They use branded products to complete their task. Some of them will even assist you in wearing your dress and jewelry items
What the Best Bridal Makeup Artists Near you will do to assist?
At weddings the bride's family will look for nothing but the best. The same goes for makeup as they look for the Best Bridal Makeup Artists in Hyderabad. At the time of hiring they will check the lady's skin to see if it's normal, oil or dry and they will make suitable arrangements. They will also tell the lady how to prepare for the makeup. Often application of moisturizer on the day before the wedding will be recommended. They will suggest remedies from the market and if you have time they will suggest how you can prepare the right homemade remedies. The makeup activity is always customized according to your requirements
Why is it better to hire a local bridal makeup artist?
Most of the ladies pay a visit to the local boutique at least once a year. They know what they are capable of and if they want something different, there is the internet to search for a bridal makeup artist near me with price. The budget is usually not an issue at weddings but some ladies may not be willing to pay too much, as they know what the charges should be. Today most of these service providers offer bridal makeup packages. It's always best to hire these artists serving your area, as they will come fresh physically and mentally.
Like all service providers there are freelancers in this business too
Most of these professionals have studios with their bases, which they own or work in. There are freelance wedding makeup artist in Hyderabad too, who have their details on a website and they always come to your place to provide services for makeup. Their charges are somewhat on the lower side. This is the only way they are able to attract more business. Most makeup artists offer their services to the bridesmaids and to the female members of the bride. Often all this is listed in the package that you purchase. These freelancers use the best and the latest equipment to do what you desire.
The makeup Charges are calculated according to your requirements
Like every service provider, these makeup artists charge you for the time they spend with you, the equipment they use and the makeup material used up in the entire activity. Today everything including the Charges is listed in packages. Their charges vary with seasons as there are more weddings in a particular season than others. They lower their charges to attract more customers. The boutique has special seats for their customers with fancy mirrors and other equipment. All these cost money and the charges for their use are also included.
The Bridal Makeup and Hair Stylist in Hyderabad are prepared to provide Makeup services at home in Hyderabad
The demand for makeup artists has increased exponentially over the past decade. With growing income levels and more women taking up jobs, this trend is set to continue in the near future. They are always required for Bridal Makeup and Hair Stylist in Hyderabad at weddings. What would a wedding be without the bride in all her glory? This is a special day and the Makeup services at home in Hyderabad are always requested for. These professionals will transform their look for the day, making them the star at the occasion where they will be the center of attention. They will help you with your jewelry and saree draping too. 
You can hire lakme bridal artists for your wedding
All major beauty products manufacturers have caught on with the trend giving their own advice for the list of their beauty products you can use for the day. There is the lakme bridal package being offered for brides from different states of the country. They have the finances, which has allowed them to do research about bridal makeups of these different regions in detail. They are suggesting products that can be used for lips, eyebrows, eye lashes and facial skin.
There are a number of salons offering their services for brides
Some of the ladies may feel like going to a salon rather than inviting these professionals to their premises. For them there are the salons in their locality and if they are not satisfied with their services, there are salons all across the city offering a range of services. The charges will be slightly lower if you go to these salons, than if you invite them to serve you. The naturals bridal makeup price Hyderabad ranges from Rs. 10,000 to Rs. 50,000, for instance. Naturals is a popular salon chain in the south of the country with a presence in all major cities. 
The bridal hair stylist in Hyderabad will give you look to remember
Most women look after their hair as much as they look after their skin. Your hairstyle can totally change your look, more than a lot of makeup. The obvious place to start your search for bridal hair stylist near me is the internet. You may be happy with your local hair stylist, but there are others in the city who are offering more options for your hairstyle. You must always prepare your hair before you go to these stylists, by washing them with a shampoo and conditioner. You can also ask these professionals how you can prepare yourself for their services. 
We will easily find a lakme bridal makeup artist for you
There are some ladies who prefer beauty products of one brand over others. These may be better suited to their skin. There are ladies who will be looking for a lakme bridal makeup artist in Hyderabad. These artists have used these for a number of years on a number of their clients. They know what impact these will have on their skins and with their experience they will always give you the look you have ordered. If you want to know what products they will be using, they will WhatsApp you a list of these.  
Are you looking for a muslim bridal makeup artist? 
Hyderabad is known across the country for its Muslim population and their Islamic traditions. Most ladies will go for traditional looks when it comes to their weddings. There are the muslim bridal makeup artist in Hyderabad who will assist the ladies of this faith with their requirements. They are known to have a different hair style, jewelry and the dresses for the weddings are different too. These professionals always get enough business serving just one community due to a large population in the city.
Hiring hair stylist for wedding has never been simpler
Some of the to be brides may even color their hair to have a distinctive look at their wedding. The hair stylist for wedding near me in Hyderabad will assist you with this. You must visit them at least a week in advance for this, so the color sets in well. You must always give some time as if anything goes wrong, things can be done to correct these. These professionals even have their portfolios of the hairstyles they can do for you. You can choose one or suggest one of your own, if you have one in mind. 
The airbrush makeup artist serve at affordable prices
Airbrushes were first used by Hollywood in the times of black and white movies. Today this airbrush makeup in Hyderabad is provided by all major artists in the city. The reason for ladies opting for this type of makeup is that it lasts long and hence is preferred for occasions like weddings where the bride will be with makeup from the evening till the next morning. It's literally not possible to do this type of makeup yourself, hence you must find an expert who knows how to use the airbrush equipment properly.
If you are looking for Makeup services for any reason, we at ZoopGo can be of assistance. You can look forward to 4 best quotes on your mobile, without any charges once you complete our requirements form. If you feel the need to talk to our consultants, you can call us at Toll-free number 1800-12312-9655.