Hire the best Makeup Services at Home in Hyderabad by ZoopGo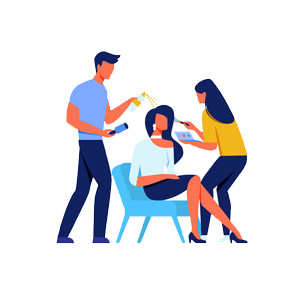 A lot of things have changed post-COVID scenario like the majority of IT jobs switched from office to work from home, the smallest item getting delivered at home, and online classes. In the same way, self-care and Makeup services have also evolved themselves and work as per the customer's demand.
Nowadays, most women prefer to get makeup and personal care services in the comfort of their homes. Moreover, this could be another way to bypass the traffic and pollution of the city as well as busy schedules. Makeup Services at Home in Hyderabad are really common and popular. The Makeup services at home are not just limited to bridal makeup but consist of several other services like waxing, threading, hair care, skin clean-up, facial bleach, manicure, pedicure, party makeup, de-tan treatment and spa treatment.
The goal of Makeup services at Home is to save you time and effort by allowing you to schedule home beauty services in Hyderabad. In order to provide hygienic and clutter-free home salon service, professional beauty specialists will come to your home. At-home beauty parlours are as simple, dependable, and enjoyable as internet reservations. We put you in touch with the best hair and makeup home service in your neighbourhood in Hyderabad.
Benefits of Makeup Services at Home in Hyderabad
There are countless benefits of Makeup Services at Home due to various reasons. Let's discuss them one by one. 
The Comfort of Home: This could be the foremost reason for many ladies, getting beauty services at home can be an overwhelming experience. You don't need to worry about hygiene and cleanliness concerns. Furthermore, You can allow yourself to make use of first-rate services while remaining safe in your own home rather than having to expose yourself to dozens of people on the way there.
Busy Work Schedule: If your work schedule is not allowing you to make a visit to the salon, you can just simply call the salon at your home. Also, while working from home, you can get beauty services at your home at your convenience.
For Mothers with Toddlers: a mother with a baby finds it really hard to make a visit to a parlour leaving the child behind. However, salon services at home is a vital help for new moms who can't leave their child.
Busy Bridal Day: a wedding day can be really busy for a bride. So, to avoid being stuck in city traffic you can call Makeup Services at home or Venue to bridal makeup services.
ZoopGo for Makeup Services at Home in Hyderabad
With a pool of makeup home services in Hyderabad, it is very natural to get confused to select one of the service providers. However, Zoopgo gives reliable assistance for choosing the optimum makeup services which you can call up at your home. Therefore, you don't need to think and search for beauty services at home. When it comes to your skin, hair, and eyes, the quality of the product is quite important.
Because of this, ZoopGo is a well-regarded supplier in terms of quality. Because we're dedicated to delivering the finest end-user experience possible
Every Makeup Artist in Hyderabad will serve to please you
No matter what the season is there are parties of all kinds including weddings, birthdays, anniversaries in the city of Hyderabad. You will be making all kinds of preparations for them and the ladies will be excited and choosing their dresses for the day. They will need a Freelance Makeup Artist in Hyderabad, to enhance their looks. Yes you will need the makeup for a few hours or for the evening but most ladies will prefer professionals rather than doing this themselves.
Today trials have become popular with beauty parlors. Most of the ladies know their local beauty parlors well, however in case you have just come to know about one, you will be keen to find more about them. Trials from these service providers will give you an indication of how good they are.
These artists work with confidence at critical moments
We all know the superstars for the wedding day, the bride and the groom. Once everything is ready the final step before moving to the wedding venue is makeup. Hence the options of failure here should be minimal. The bride and groom will be facing a large number of people and the work of these artists will come under the scrutiny of a large number of knowledgeable ladies.
You can easily find details of bridal makeup artist in Hyderabad with price online. Some of them even have portfolios with their past work. They will tell you about hair styling options too and you can select one among them. They will put you at ease with manicures and pedicures. Often there will be a team of makeup artists working for you and their packages include makeup for bridesmaids and other members of the family too.
Only the best equipment's and materials will be used by these artists
Every lady knows that make up starts with foundations and then your cheeks, eyebrows, eyelashes, lips are worked on. Before this activity starts, most professional makeup artist in Hyderabad will recommend that you clean your face completely with the help of a moisturizer. You must use the best shampoo and conditioner to keep your hair ready for styling. These service providers use branded products that most ladies will know about. They often bring other equipment too like those for Airbrush makeup. You will always be in front of a large mirror and you can see what is being done to your face. You can always ask them what look they are planning to give you and you can give your suggestions too. 
Any service you need, anywhere - these artists will provide
Most of these artists will travel anywhere in their city on invitation. In case you have invited party makeup artists in Hyderabad, they will come prepared with everything apart from the large mirror. Most of us have different kinds of skins. These professionals describe them as dry, oily or normal. They use different products for different types of skins and they may even ask you to make preparations accordingly. They will also make suggestions for what to do once the party is over. You must never sleep with makeup on, this can be dangerous for your skin. You must thoroughly clean your face before you go to bed.
You will be charged according to your makeup needs
There are all types of makeup artists in Hyderabad offering various services. There are well established beauty parlors, unisex salons and then there are the freelancers who have just entered the business. Often these freelancers link up with parlors where they share part of their earnings.
The Charges will be always different, even for when you are served at the parlor and at your home. You are charged for the time these artists spend with you and for the use of the makeup products and equipment. They all offer seasonal bargains which you can look out for. 
If you are searching online for makeup artists near me, we at ZoopGo are here to assist. You can start with our well designed requirements form and once you submit your details we will provide 4 best quotes, on your mobile free of any charges. Alternatively, if you feel the need to connect with us, we are available at 1800-12312-9655 to answer any questions you may have.