How ZoopGo Work to get you Best Portfolio Makeup Artist in Hyderabad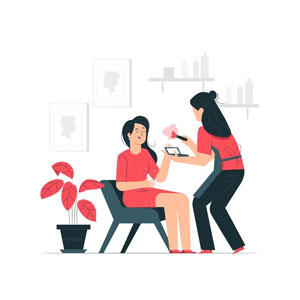 If you are an aspiring model or actress, who wishes to make big in the showbiz industry, then a professional portfolio is a holy grail for you. To understand from the scratch, A portfolio is a collection of professional photographs of an aspiring artist. The main purpose of a portfolio is to showcase its versatility of looks. However, for a portfolio, not just a photographer but an exceptional makeup artist is required too. A professional photographer and a portfolio makeup artist both are fundamental requirements for a prominent Portfolio. Fortunately, Both of your needs can be fulfilled at ZoopGo. Here you can connect with the most talented and skilled makeup artist for your shoot. 
Hyderabad is home to many celebrity makeup artists who give you an amazing makeover for your portfolio and can easily reach the top Portfolio Makeup Artist Hyderabad. Having a great portfolio is the best way to kick-start your career in the glamour world. 
Why Professional Portfolio Makeup Artists are essential for Photoshoot
Well, No aspiring model or artist can imagine walking into casting authorities with having a portfolio with them. In other words, it is equivalent to a CV in the corporate world, either hard or soft copy but it is essential. However, many advantages are associated with Portfolio Shoot Makeup Artist in Hyderabad. Let's discuss some of them. 
You might be knowing the fundamentals of makeup but the makeup artists can work on different looks which might help you to give the perfect look for the ideal role. They can help you with a variety of looks and styles which eventually enrich your portfolio. 
Portfolio makeup artists know their job very well and are skilled in their procession. Therefore, no one can better help than them for your ideal makeup and look.
Not just makeup but hairstyle play a key role in the portfolio. Therefore, A MUA (Makeup Artist) is necessary from a hair point of view too.  
Create a great first impression
Your opening picture needs to be AMAZING. It ought to grab the audience's interest right away. The first image should compel the visitor to flip the page and see more because you just have a split second to earn the respect of the viewer. That's why, To make a great impression, you need to look elegant and charming. 
How ZoopGo help you in finding the perfect Portfolio makeup artist in Hyderabad
Well, when it comes to finding the best Online Portfolio Makeup Artist in Hyderabad, Zoopgo is the ideal place for you. ZoopGo is one of the leading online platforms for all your makeup artists-related queries and searches. We have listed some of the best and most verified makeup artists for your shoots. Furthermore, Many Portfolio makeup artists in Hyderabad have a studio or particular place for photoshoots. One very crucial point that we haven't talked about yet is the Cost and Budget for Portfolio Makeup artists. Well, this particular thing depends on your requirements and the vastness of your makeup. The variety of looks and hairstyles will decide the cost of your makeup.