Hire the Best Pre-wedding photographers in Kolkata from ZoopGo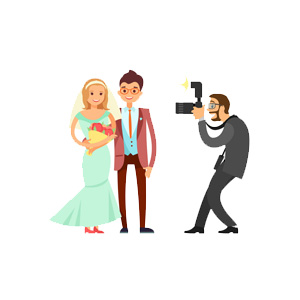 Nowadays, with the trend of pre-wedding shoots booming, couples want to capture their beautiful moments in the form of images and videos so that they can preserve them as memories. 
Today is the era of social media and everyone loves to post images on social media of their beautiful moments. Most people love to capture the beautiful journey of themselves and their partner. A pre-wedding shoot also helps couples in many ways by getting them used to being in front of the camera. If you are camera hesitant, this will be your chance to come out of it. 
Ideally, a pre-wedding shoot is in style to capture the moments of the couples who are in love with each other and preserve their memories of friendship and love. But later on arranged marriages also started opted for this trend of a pre-wedding shoot 
How can you find the best pre-wedding photographers in Kolkata? 
To find the best pre-wedding photographers in Kolkata, you have to take out a lot of time from your schedule and do these several steps, which are listed below - 
Know your style: The first step is to start with yourself and know your style. Firstly, you do not do that, no matter how professional and experienced the person you will hire, you are not going to be satisfied with that. Your personal preference and your personal style will help you find a professional pre-wedding and wedding photographer in Kolkata who will match your requirements and bring out the results that satisfy you. 
View sample work: Request them to show complete albums or sample work from the photographers you are considering. This will give you a better understanding of their photography skills, consistency, and ability to capture different lighting conditions and emotions.
Meet in person: Arrange face-to-face meetings or virtual consultations with shortlisted photographers. This allows you to discuss your vision, ask questions, and get a sense of their personality and professionalism. It's essential to have good chemistry with your photographer.
Discuss packages and pricing: Inquire about their packages, pricing, wedding photography charges in Kolkata and what is included in their services. Compare different photographer's offerings to ensure they align with your budget and requirements.
Following these points will help you find your ideal type of pre-wedding photographer. 
How you can choose the best pre-wedding photographers in Kolkata? 
Choosing the best pre-wedding photographer in Kolkata requires careful consideration and evaluation. You have to do research on the different portfolios and make sure to check their creativity, consistency, and quality of content.  You have to read testimonials and reviews of their previous work to check if they satisfied their previous clients or not. 
Not only for reviews, but you also have to carefully check the contract and its terms and conditions. Lastly, it's your decision whether you feel comfortable with the photographer you are choosing. 
You can also consider ZoopGo to hire trustworthy and best pre-wedding photographers in Kolkata who not only possess the technical skills but also understand your vision, resulting in beautiful and memorable photographs that reflect your love story. In case of any query, you can connect with us at the toll-free number 1800-12312-9655.