Book the best photographers in Kolkata through ZoopGo for out-of-the-box photography!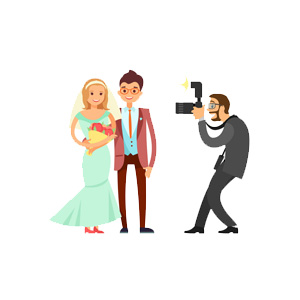 Behind every photograph, there's a story to tell! If you have one, then tell it in your own unique way! Hire the best photographers in Kolkata through ZoopGo, India's legit internet portal & frame every moment that matters to you! Our photography partners are verified and licensed. With their creativity and avant-garde style, they turn your photographs into art that you never want to forget!
5 Stunning photography trends in 2022 -
Silhouettes - Mystery, versatility, and openness to interpretation are the beauty of Silhouettes. Nowadays, people love to convey drama, emotion, and mood through their photographs! Silhouettes will be one of the hottest photography trends you see in 2022! Moreover, you can book top pre-wedding photographers in Kolkata using ZoopGo & amaze with your romantic Silhouette!
Social Distancing - COVID hasn't departed the world yet! Brands that have included masks in their product line; continue to include face masks and social distancing in their photography to raise and spread awareness about prevention from COVID-19. Moreover, if you want your brand to thrive in the fashion world, hire the best fashion photographers in Kolkata via ZoopGo.
Emotion - The world has seen a lot in the past two years! And people need support more than ever! They want to communicate their intimate and relatable emotions through their images to connect people around the globe, despite cultural and physical barriers.
Authenticity - This photography trend has stood the test of time and will be continuing to dominate the photography trend in 2022. People want to show their actual shelves. It will encourage photographers to capture the realness rather than overly staged or posed photographs.
Muted Color Cast -  The photography style aims to make the colors of a photograph more cohesive and change the overall feeling and emotion of an image. It is what will keep it on the trending list.
Why ZoopGo
ZoopGo is a unique, value-added aggregation platform with 1500+ verified and licensed partners. It has been serving its esteemed customers' photography needs for 10+ years by connecting them with the best photographers in Kolkata and has served 45000+ customers till now. Whether you want to book corporate photographers or wedding photographers in Kolkata, we have got your back covered. You can find and book your ideal photography match at reasonable prices with the click of a button using ZoopGo. 
Our services -
Verified service providers
Instant quotes and bookings
Dashboard for actionable insights
24/7 customer support
Short notice bookings
You are just 3 steps away from your ideal automotive partner -
Step #1 - List your photography requirements with us to receive the First Four Free Quotes. Furthermore, you can book the best event photographers in Kolkata using ZoopGo.
Step #2 - Check the received quotes of different photographers and compare their prices. You can dig into detail through our Dashboard and get real insights into their business.
Step #3 - Call & book!
We'd be more than willing to assist! For further queries call us on our toll-free number 1800-102-9655.
FAQs
Who is the best photographer in Kolkata?
Best photographers in Kolkata can be only found on ZoopGo.
How much do professional photographers in Kolkata charge?
Professional photography charges depend on the type and size of the event, location, type of photography, etc. However, the approximate fee charged by professional photographers in Kolkata range between INR 10000 and INR 100000 and more.
How far in advance should I book my wedding photographer in Kolkata?
9 to 13 months are the traditional timeline to book professional wedding photographers. It helps to avoid the last-minute hassle.
Why should I hire professional photographers in Kolkata?
The way an image is captured is what matters! Professional photographers, with their high-quality cameras and gears, produce higher-quality images. Their editing is worth every penny.
How much time do professional photographers in Kolkata take to deliver the images?
Professional photographers usually take between four to six weeks to deliver the final result. However, you need to ask this beforehand. Also, read their contract carefully.
What type of events do professional photographers in Kolkata cover?
Professional event photographers in Kolkata usually cover corporate, festive, and social events, such as weddings, birthday parties, concerts, corporate parties, and events, etc.