Catering Services Hyderabad: Stately Catering Solution for Princely Event Celebration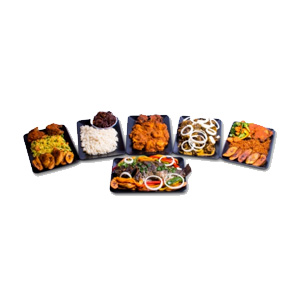 Majestic Catering Services in Hyderabad or in any high-class city encourage reveling specialized foods and beverages in large quantity and in a stylish way for all types of fascinating events and joyful occasions. Most of these professionally dexterous caterers are experts in cooking multi-cuisines and dishes, as per the need of the clients and on-going trends. From live food counters to customized sitting arrangements, these professionals Wedding Caterers furnish a variety of luscious flavors at events. Authentically reputed and responsible Catering services also look after to plan the customize menu decently, offering expert suggestions on dishes and even providing large serving dishes and cutlery for the enticing function.
Organize a memorable function with zealous and skilled Caterers in Hyderabad serving peerless Food styles. For all such jubilant events, the involvement of an adroit catering service in preparing, presenting, and serving the food and beverages in a stylish way play a stringent role. Grab customized quotations quickly from ZoopGo, Compare prices wisely and Hire the most perfect one in your budget without a little hitch.
Pick the dexterous catering Services at an affordable price in Hyderabad from ZoopGo.Com instant
At ZoopGo, you can search for top Caterers in Hyderabad and on the basis of your preferred location along with popularity, ratings, and reviews of numbers of caterers on ZoopGo. For the most lucrative offers from businesses listed on our portal, just fill up your requirements, such as type of occasion, date, venue, number of estimated invitees, type of food, your name, and contact number, etc., and click the submit option. Just within 10 to 20 minutes, our fast team will help you contact the best Birthday party Caterer or for any occasional help in your budget.
Specialized House warming Caterers enrolled on ZooGo portals
Being competent, ZoopGo enrolls a vast group of accomplished, responsible and prompt Caterers in our catering services in Hyderabad list, we promise to let you contact the most desirable and favorable caterer for any of the services, for instance, Wedding Caterers, Birthday party Caterer, Anniversary party Caterers, Engagement event caterers, House Warming caterers, Kitty Party Caterers and all types of other Outdoor Catering services including Corporate party caterers, etc.
Category of food items that our credible Wedding Caterers are expertise in Hyderabad
Our well-known, conversant and proficient Anniversary party Caterers, as well as other caterers, are highly competent in providing all types of mouth-watering food items depending on the accurate choice of the customer. They serve all types of specialized food items, as mentioned below for your reference, in a great way of serving –
Mouth-watering vegetarian food items,
Non-Vegetarian foods,
Jain specialized foods,
Veg / Non-Veg Special Hyderabadi dishes
Rich North Indian foods,
Spicy South Indian foods,
Chinese food items,
Delicious Continental foods
Thai Special and, so on.
So, it ideally depends upon one's choice while hiring the most justifying and experienced Engagement event caterers, House warming caterers, or some another for your specialized event from ZoopGo and discuss everything of your preference. All our enrolled caterers are committed to providing the exact food item of lavish taste right in accordance with the need of the customer.
The uniqueness that you avail for a Corporate Party Caterers from ZoopGo
You can find your Caterer ready to serve 24 X 7
All our Caterers in Hyderabad are genuinely certified and well skilled in catering services
If the considered number of guests grows, they can manage without any complicacy
They are brilliant in providing great services instead of a sudden change in venue
They can cook food at the venue, or if you wish, ready food items will be brought and arranged at the venue at the soonest without any hurdle.
Book the best Tamil brahmin caterers in Hyderabad through ZoopGo for an irresistible affair!
No Garlic! No Onions! If you are in search of culinary artists (caterers) who understand and respect your food habits and tradition and provide delicious and tablescape dishes relished by both the eye and the palate accordingly, you have come to the right platform. We, at ZoopGo, are India's most-trusted value-added aggregation platform. We understand a party is all about a good time and great food. Thus, we connect you with the top Tamil brahmin caterers in Hyderabad to create your vision and make your upcoming celebration an irresistible affair.
Why Tamil Brahmin caterers through ZoopGo?
Tamil brahmin catering is not only about vegetarian food. It's about quality and delicious food along with cleanliness. Therefore, traditional brahmin catering services in Hyderabad through ZoopGo. Service providers associated with us are certified and reputable names in Hyderabad. They provide a list of delicious dishes that belong to the vegetarian variety. Also, they have a wide vegetarian menu with a variety of traditional, regional and multiple cuisine options.
They provide customers with the best menu combinations for their events with unparalleled services. Tamil brahmin caterers associated with us cater for all sizes and types of events. You can rely on them to host both festive and corporate events. You can book Tamil brahmin caterers for up to 150 persons through us. Our service partners will give you the liberty to choose more than one variety of cuisine at a time, depending on your guest list and preference.
You can rest assured about sophisticated serving and authentic food taste by booking catering services through us. With their food and class-apart service, they will make your event more gala and elegant. The team will serve your guests with a welcoming smile on their faces. So choose Tamil brahmin caterers in Hyderabad with us and make your party a memorable affair. Tamil brahmin caterers enlisted with us serve almost every variety of parties. Here is a list of some of the events you can book caterers for:
Wedding occasion
Birthday party
Baby-shower function
Rice ceremony
Family get-together
Engagement ceremonies
Religious festivals
Why ZoopGo?
ZoopGo is India's leading online portal to find the best catering providers. It enlists thousands of service providers under one roof and consolidates your search by making it easy and precise. All the service providers at ZoopGo are certified, reliable, and with a rich experience under their belt. You can run a thorough price comparison among brahmin caterers or veg caterers in Hyderabad based on their ratings, reviews, and service to opt for the one best suits your needs. 
Book the best brahmin caterers in just THREE easy steps -
Step #1 - Share your requirements with us to get the First Four Free Quotes.
Step #2 - Check and compare quotes.
Step #3 - Call & book!
Services that set us apart -
Verified, registered, and licensed partners
Quick quotes
24/7 on-demand customer support
Dashboard for actionable insights
Transparent and cost-effective solution
Looking for 'Best brahmin caterers near me?' Reach out to us. For further queries call us on our toll-free number 1800-12312-9655. Moreover, you can download our application from Google Play Store and book our services anytime, anywhere, at your convenience.