How does a professional wedding photographer at Sohna Road, Gurgaon make your wedding more memorable?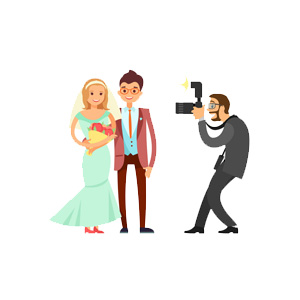 The job of a wedding photographer involves a lot of dedication and passion, and these are constantly fueled by love for those around you and sincere admiration for people who love each other. When photographing or filming a wedding, the wedding photographer filters reality through his own experiences and translates it into true art. Because in photos and films, he manages to capture feelings and emotions, and the pictures turn into a love story. And nothing would be possible without the wedding photographer being totally involved and living every moment with the couple in love.
So, when looking for a wedding photographer in Sohna Road, Gurgaon, look into his soul. See if you can find that light that will make you feel good in front of the camera, so you can give free rein to your feelings and show yourself in front of the cameras as you really are.
Wedding Photographers immortalize your special moments
Immortalize in images the most beautiful moments of your wedding together with the team of professional photographers at ZoopGo. Whether we are talking about a traditional wedding with customs in different locations or just a private reception, they will  immortalize the most beautiful moments of your wedding through the most expressive images. These will make up an album that, browsing it, will make you relive those special moments and be able to share them with loved ones over time. Photographer will combine photojournalism and snapshots with portraits and detailed images, photographing all the stages and key moments of the wedding we are present at. As professional wedding photographers, in capturing all the moments that matter we rely on our professional Canon photo equipment and numerous accessories such as Haskell light kits, shutters and soft boxes.
What do our photo service offers include?
Professional photographer throughout the event. A professional photographer can participate in all the key moments of the wedding, the preparations of the bride and groom, the religious service, the civil ceremony and of course the wedding party. Optionally, he can also organize a dedicated session on the wedding day and afterwards a "trash the dress" session. Her will be prepared for all conditions and we will have with us all the equipment we might need: objectives, flashes (when the existing light is not enough), diffusion umbrellas, additional batteries for cameras and flashes, etc. On request, they ensure the presence of a second photographer for events with a large number of people.
Unlimited photos throughout the event / Professional photos in digital format
It is difficult to estimate the number of raw photos that will result by the end of the wedding, as there are many factors that influence this: the locations involved (the wedding venue, house, Barat, the customs, the ballroom), the number of guests and the dynamics of the event. What is fixed is the final number of processed photos that will be established in the contract, it is usually chosen between 500 - 1500.
Professional photo processing
Photographer will establish together a number of photos that we will go through the editing process on which we will make corrections of brightness, contrast, color, correct framing of the subjects, resizing, etc. We will not give you duplicate images and we will make sure that each frame captures a unique moment.
Delivery of materials by online transfer
The photo delivery period specified in the contract is around 15 to 20 days from the date of the event, but he will ensure one or two intermediate delivery iterations: for example, in a few days from the wedding date you will receive photos with the most important moments to be posted on social media and after two weeks we will hand over the pictures that have been processed. The photos will be delivered via online transfer.
Which are the nearby locations for pre wedding shoot In Sohna Road, Gurgaon
Some of the popular locations for pre wedding shoot are share here where you can go with your wedding photographer for pre wedding shoot.
Tikli Bottom
Damdama Lake
Neramana Fort
Tarudhan Valley Golf Resort
Kingdom of Dreams
Sultanpur National Park
Resort country Club
Who are the best local wedding photographers at Sohna Road, Gurgaon?
Following wedding photographers is shared on the base of their review and rating collected from Google my business as well on the base of their work portfolio shared on their social media accounts.
| | |
| --- | --- |
| Photographers Name | Review/Rating |
| (1) The Wedding Studio |  4.9 / 44 |
| (2) Vagueshare |  4.4 / 144 |
| (3) Knot Just Frames |  5.0 / 37 |
| (4) Sumita's Photography |  4.8 / 262 |
| (5) Sandy Flicks Photography |  4.9 / 61 |