Hire the best photographers in Manesar through ZoopGo for every celebration!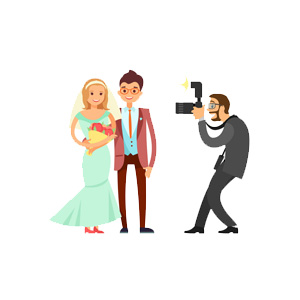 Moments are temporary and memories are eternal. Therefore, celebration and photography go hand in hand. So, if you are in Manesar and seeking your perfect photography partner to capture your precious day or brand, you have come across the right place. ZoopGo is a leading aggregator in India, with 1500+ service providers, 45000+ happy and content customers. It strives to connect its customers with the best professional photographers in Manesar, letting them relive and cherish the day forever. Whether you want to hire fashion portfolio photographers or wedding photographers in Manesar, you can bank upon us for your photography needs.
3 Reasons Why should you hire professional photographers in Manesar?
Investing money in photography can bring pleasantly surprising results. Hiring a professional photographer  in Gurgaon can benefit you in more ways than one. Here are three crucial ones:
Top-of-the-line gears - Many users having smartphones may find this point irrelevant. Indeed, smartphones' photographs are getting better. But, they still can't compete with DSLR technology. Their better understanding of lights, locations, and editing to capture a particular emotion makes the final result stand head and shoulders above the rest.
Editing is worth every penny - Somehow, you will arrange a DSLR camera, but what about the editing process. A Photography editor could make or break those photos. Professional editing is far more advanced than your smartphone or built-in app on your laptop. Professionals with their creative touch can bring pictures to life.
Trained eye - Let's keep the above technical aspects aside a moment. Maybe, somehow, you manage to arrange both of them, but you can't buy experience. Professional photography is beyond the camera and lenses. It's about attention, skill, and knowledge. Professional photographers have a creative eye. They see things from a different angle than an average person can't think of. You can find licensed corporate event photographers in Manesar through ZoopGo.
Why should you hire professional photographers in Manesar through ZoopGo?
ZoopGo is a one-stop solution to connect with well-regarded photographers in Manser instantly, and at reasonable rates. So whether you want to connect with a photographer for your baby photoshoot or product catalog photographers in Manesar, you can rely upon us for all your photography needs. Photography partners listed with us are pre-verified, so you can rest assured of the best result.
We offer -
Verified and assured services
Instant quotes and bookings
Dashboard for actionable insights
24/7 customer care support
Short notice moves
Transparent and cost-effective services
3 steps to hire professional photographers in Manesar through us
Step #1 - List your photography requirements and details on our platform to get the First four free quotes. Suppose you are looking for maternity photographers in Manesar, so fill in the exact information.
Step #2 - Check and compare those quotes and shortlist service providers. Check their reviews through our Review Dashboard.
Step #3 - Call and book them.
Happy to assist! For any further assistance, feel free to reach out to us on our toll-free number 1800-102-9655.