How to select the best among the Photographers in Sector 78 Gurgaon?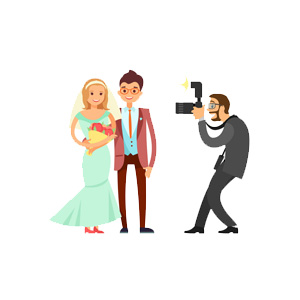 Sector 78 in Gurgaon, is on the boundary of Delhi NCR and Haryana. It is partly still in the development phase and has good connectivity to the rest of Gurgaon through roads. The residents often need the services of Photographers in Sector 78 Gurgaon, for various reasons and occasions. There are photographers and there are good photographers.
Obviously, you are looking for someone who captures photos well and has the knowledge of what to do on a particular occasion.
They will take initiative and click every moment that deserves to go in a photo album.
Why do we need to book photographers well in advance?
You need to have photos of every event you have organised and the Wedding Photographers in Sector 78 are even more important as they capture your wedding moments. They must always be booked in advance as the best are always hired by many and their availability at a particular date will not be confirmed without a call to them. Most of them will be with you throughout the party capturing solo and group photographs. They know that the groom's family and guests may need to travel to distant locations and they keep themselves prepared for these lengthy journeys. Every facility has a price though and all of them charge the out of station fee.
How do the photographers react to unconventional situations?
There are a number of concepts for Pre Wedding Photographers in Sector 78. Smoke bomb photography is in trend at these photoshoots with the couple holding a grenade each spraying coloured smoke around and allowing photos with beautiful backgrounds to be captured.
The venues need to be selected carefully as you will need a secluded location where the couple can relax and the photographer can capture photos without being disturbed.
The couple must choose their dresses according to how they want to come across in these photos.
The photographers always hope to capture them in a romantic mood.
How the photographers will help you improve your sales?
How do we sell anything? Either the customer asks for what he is looking for or they can pick from the shelf. Selling online is a different proposition altogether. The customer will get to the right panel for the product himself but to increase the chances of sale you must put as many pictures of the product as you can from different angles and with a detailed description. Only when the customer is sure that this is the product he needs, only then the sale will take place. If the product is not right or different from what is depicted in the photos there is a high chance that the customer will request for return or replacement. Product Photographers in Sector 78, are experienced and know what type of photographs are required and accepted by the major e-commerce sites.
How do the photographers arrange everything for you?
Fashion is just not for the rich. Affordable fashion has reached us all through the shopping malls where you can see and buy dresses that will make you feel like a supermodel. You must have seen the photos of these items in fashion magazines, on onroad advertisements or in front of clothes shops. Fashion Photographers in Sector 78 are capable of capturing similar photos for any fashion organization. They are connected with the modelling agencies where models matching your requirements can be hired for different poses. 
How do experienced photographers understand your concerns?
Pregnancy is a blissful period for mothers. It's a period they want to remember later in their life. Maternity Photographers in Sector 78 will assist the ladies locally with their photography needs. They will make suggestions about the dresses and venues, but these are your choices. The pregnant ladies deserve all the care we can give them and the photographers will capture the photos only when the lady is comfortable.
For those of you looking for Photographers Near Me, you have reached the right webpage. We at ZoopGo provide 4 best quotes in instants of you providing us with your requirements and contact details. All of our services are free of cost and we invite you to test us for free and see how far ahead we are of the competition. If you have any queries or concerns please connect with us at 1800-12312-9655.
FAQs
How will ZoopGo assist me with Photographers in Sector 78 Gurgaon?
We will reduce your overall search time for these service providers, by providing you quotes as the first and not the last step. We will list the photographers that match your requirements and are willing to serve in your locality.
What are the charges of Photographers in Sector 78 Gurgaon?
These photographers charge you for their time with you and the number of photos you need. The photo album costs extra and most of them request for some advance payments, just to ensure that you are genuinely interested in their services.
How can I be assured of the quality of services of Photographers in Sector 78 Gurgaon?
All photographers listed by us have their online and offline portfolios that will give you an idea of the quality of work they do. All service providers listed by us are registered with us. Their commercial details have been verified by us.
What happens if I want to cancel or postpone the event?
You must update this to the photographer as soon as you can so that he can readjust his diaries. They will reimburse your advance if they can and will let you know if they are available at the future date requested by you.