Caterers in Ghaziabad: Fascinating Catering Solution For Different Event Celebration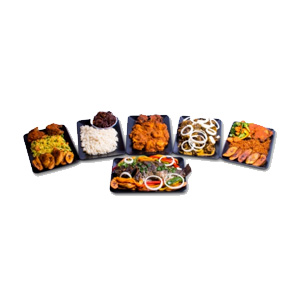 Catering Services in Ghaziabad or in any top-ranked city offer specialized foods and beverages in large quantities and in a stylish way for all types of fascinating events and joyful occasions. Most of these professionally dexterous caterers are experts in cooking multi-cuisines and dishes, as per the need of the clients and on-going trends. From live food counters to customized sitting arrangements, these professionals Wedding Caterers in Ghaziabad carry out a variety of mouth-watering flavors at events. Authentically reputed and responsible Catering services also guide in planning the menu, offering expert suggestions on dishes, and even providing large serving dishes and cutlery for the function.
Organize a memorable party with talented Caterers in Ghaziabad by serving peerless Food styles. For all such vivacious events, the involvement of a proficient catering service in preparing, presenting, and serving the food and beverages play a pivotal role. Grab customized quotations from ZoopGo, Compare prices, and Hire the most perfect one in your budget instantly.
Pick the best and affordable catering Services in Ghaziabad from ZoopGo.Com instant
At ZoopGo, you can search Caterers in Ghaziabad and all across Delhi NCR on the basis of your location, popularity, ratings, and reviews on ZoopGo. For the most attractive offers from businesses listed on our portal, just fill up your requirements, such as type of occasion, date, venue, number of estimated invitees, type of food, your name, and contact number, etc., and click on the submit option. Just within 10 to 15 minutes, our fast team will help you contact the best Birthday party Caterers in Ghaziabad or for an occasional need in your budget.
Specialized House warming Caterers available on ZooGo portals
Being competent, ZoopGo enrolls an extensive group of accomplished, responsible and prompt Caterers in our catering services in Ghaziabad and throughout Delhi NCR list, we promise to let you contact the most desiring caterer for any of the services, for instance, Wedding Caterers, Birthday party Caterer, Anniversary party Caterers, Engagement event caterers, House Warming caterers, Corporate party caterers, Kitty Party Caterers and all types of other Outdoor Catering services, etc.
Varieties of food that our unique Wedding Caterers are expertise in
Our broadly known conversant and proficient Anniversary party Caterers as well as other caterers are highly prolific in providing all types of mouth-watering food items depending on the choice of the customer. They serve all types of following specialized food items in a great way of serving -
Mouth-watering vegetarian food items,
Non-Vegetarian foods,
Jain specialized foods,
Rich North Indian foods,
Spicy South Indian foods,
Chinese food items,
Delicious Continental foods
Thai Special and, so on.
Ergo, it completely depends upon one's choice to hire the most suitable and perfect Engagement event caterers, House warming caterers, or some another for your specialized even from us and discuss everything of your preference. They are committed to providing the exact food item of great taste right in accordance with the need of the customer.
Specializations that you get with Corporate Party Caterers from ZoopGo
You can find your Caterer ready to serve 24 X 7
All our Caterers in Ghaziabad and Delhi NCR are genuinely certified and well-experienced in catering services
If the considered number of guests grows, they can manage without any complicacy
They are brilliant in providing great services instead of a sudden change in venue
They can cook food at the venue, or if you wish, ready food items will be brought and arranged at the place at the soonest without any complication