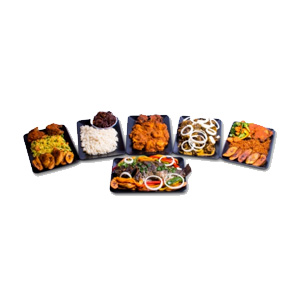 Let's find out the best Caterers in Rajnagar Extension at ZoopGo
The secret of any enthusiastic event is delicious cuisines and facilitated arrangements. Yes! You'll never be fond of the entire occasion without any coziness. The professional caterers in Rajnagar Extension will never end up on their time-to-time services. From decoration to the food buffet the arrangements will be enormous. Here, at ZoopGo there is a list of experienced caterers where it is easy to search for a genuine one according to the occasion. 
How ZoopGo will help you in finalizing wedding caterers in the Rajnagar extension?
Our web portal is highly accurate according to the user's experiences. It allows the visitors easy-to-operate tools where they can categorize the services. Even it is also beneficial for personalizing the requirements according to the nearest location and budget. 
Here you're able to customize the services according to the ratings and reviews. 
Active customer support will solve your issues on an immediate basis.
You can visit the feedback section.
Free quotes for easily accessible services. 
What are the types of caterers on ZoopGo?
Whether it's your food event or having minimal get-together here you can book professional catering services. We've not limited to any 2 to 3 types hence we consider varieties of services such as:
Wedding and event catering services
Food delivery catering
Small party and social event caterers
Birthday party or baby shower caterers 
Commercial or any official party catering
These are the wide range of services where you'll end up with suitable services. So, our caterers will work closely to your expectations. It helps them to understand the requirements for further better services.
What are the responsibilities of experienced catering services?
People prefer to hire any occasional or Birthday Party Caterers in Rajnagar Extension for the complete management. Planning, organizing, preparation, and implementation are the basic responsibilities of genuine caterers.
The first thing is to understand the requirements of the customers.
After that menu creation of different cuisines and beverages is necessary. 
They finalize the starters, main course, desserts, and drinks that meet the customer's expectations. 
Caterers arrange fresh ingredients from vendors and prepare the entire buffet.
Then they prepare the number of dishes according to the number of guests. 
Even they also do sitting and table arrangements.
Therefore, the professional caterers decorate the venue according to the theme. 
Delivering the services on time is the priority.
After the party, they clean all the mess and utensils. 
How ZoopGo is highly preferable for House Party Caterers in Rajnagar Extension?
Well, ZoopGo offers better value-added services to the users. They can personalize the list according to the nearby location and budget. Here, you can meet with your local caterers according to the event. 
What are you waiting for?
Visit our website and know our professional services. For more, it is easy to contact us at 1800-12312-9655. Drop multiple suggestions at support@zoopgo.com. Now, our professional Caterers in Rajnagar Extension will make your dull party into the best ceremony. So, book professional catering services now!
FAQs
How do I trust Caterers in Rajnagar Extension at ZoopGo?
For many years we're serving our customers quality of services. So, you can check our feedback section or Google review; then you'll know about our trusted services. 
Do you think south Indian caterers will prepare the real taste of southern dishes? 
Yes! They add some extra southern spices where your guest will be impressing with the real taste of southern dishes. We're more than Dosas and Idlis so don't worry our south Indian caterers will offer you the exact taste. 
Do you think the ingredients will be fresh with better quality?
Yes! Our Wedding Caterers in Rajnagar Extension work with fresh spices and the quality of dairy products. They will never compromise with better services. 
What are the charges of professional caterers?
The charges are according to the platter and occasion. So, don't worry the charges are all affordable. 
How do I find caterers near me in the Rajnagar extension?
Visit our website and personalize the list according to the nearby area and budget. Then you'll probably find better services. 
Do you think House Party Caterers in Rajnagar Extension can manage 2000+ guests?
Yes! They can handle more than 2000+ guests at once.