Book the best painters in Vasant Kunj through ZoopGo & give your home a perfect makeover!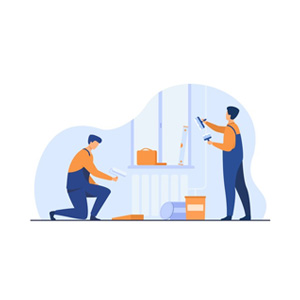 Painting is the quickest, cheapest, and most cheerful way to spruce up your home's walls! So whether it's just one accent wall or a complete redo, give your home that much-needed love and care that it deserves with professional painting services. Painters in Vasant Kunj registered on our portal are verified and licensed. They improve the aesthetics of your home, give it a rich look and feel and make it lively.
5 Reason for hiring professional house painters in Vasant Kunj
They will make your home appealing - First impression may not be the last one, but it will set a precedent. You may shop for rich and trendy colors, but it requires a skilled eye and professional hands to perform the task. Professionals listed on our portal with their top-notch painting job will make your home more appealing. Also, you can hire furniture painters in Vasant Kunj through our portal.
Professional assistance - Painting is not rocket science. But, it's a form of art. And you can't revamp your home's walls with amateur skills and no knowledge of materials and equipment. Professional painters list  in Delhi on our platform will suggest to you the latest trends and which colors to go for as per the texture of your walls.
Quality materials - Without having any know-how about the equipment, if you try to perform a painting job, you will compromise the health of your home. You can rest assured about paints, materials, and tools when employing professionals for the job. Whitewash Painters in Vasant Kunj through ZoopGo are your best bet!
Saves your time -  Without any known techniques and tricks, painting a home becomes complex and time-consuming. If you don't want to waste your time, efforts, and money, you must welcome professional painters onboard. Legit painters in Vasant Kunj associated with us are well-regarded and experienced. They will complete the job at the designated time.
The 5 most trending exterior hues for 2022
 #1: Peppy Citrus.
#2: Welcoming Neutrals.
#3: Comforting Earthy Tones.
#4: Understated Grey-Green.
#5: Warm Terracotta.
The 5 most trending interior hues for 2022
 #1: The Sunny Yellow.
#2: Calming Neutrals.
#3: Comforting Earthy Tones.
#4: Cheerful hues - Green.
#5: Claiming hues - Aqua Blue.
Why ZoopGo?
ZoopGo is India's top-rated value-added aggregation platform. We have been connecting customers with their ideal service providers for 10+ years. 45000+ customers have fulfilled their home-services needs through us thus far! Through our platform, you can find and connect with your perfect painting partner at affordable rates instantly with a few clicks. Commercial and house painters in Vasant Kunj registered with us are pre-verified, licensed, and top players in their industry. They will make your home look classy and elite.
5 Benefits of booking house painting services through us:
Certified, experienced, and licensed service providers
They stay abreast with ongoing painting trends
Availability of accurate tools and equipment
Best yet reasonable painting services
Assured timely services
Our offerings
Quick quotes and bookings
Round the clock customer assistance
Review Dashboard for actionable insights
Short notice bookings
Book your best match for home/office painting just in 3 steps through us -
Step #1 - Mention your painting requirements with us to avail the First Four Free Quotes. Moreover, you can connect with the best painting contractors in Vasant Kunj through us.
Step #2 - Check and compare quotes.
Step #3 - Call & book!
If you are looking for 'Full house painters in Vasant Kunj near me,' you must reach out to us. We will connect you with your perfect home painting partner instantly. For further queries call us on our toll-free number 1800-12312-9655