Book the best painters in Uttam Nagar through ZoopGo for an aesthetically appealing home!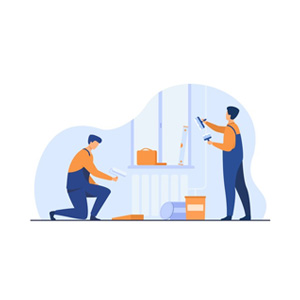 Like birds feel safe in their nest, we feel inspired at our homes. House painting is the most effective, easy and instant way to uplift the aesthetics of a house. If you want to brighten your nest by splashing some merriment into it, book professional painters in Uttam Nagar through ZoopGo, India's leading web aggregation platform, to create positivity, hopefulness and vibrancy. Painters enlisted on our platform are verified, licensed, and thus credible. They improve the aesthetics of your home, give it a rich look and feel and make it lively.
Why professional painters?
Anyone can paint, but they can't paint like a pro. If you don't want to end up with unattractive results, book professional painters through ZoopGo. Professional painters consider walls like a blank canvas; they turn into worthy art with quality painting services. You can hire the best furniture painters in Uttam Nagar through our portal, ZoopGo.
They make your walls look brand new with their experience, quality services, appropriate tools and techniques. You can rest assured about clean lines, no messy flakes, debris, or chips when you hire professionals to complete a painting job as they pay attention to details. You can book painters through our portal for quality whitewash services.
Quality work done skillfully by professionals will last for years. They handle any painting job with precision and perfection and complete it on specific deadlines. Professional painters associated with us offer waterproofing services also.
The Five most trending exterior wall paint colours - 2022
#1: Peppy Citrus.
#2: Welcoming Neutrals.
#3: Comforting Earthy Tones.
#4: Understated Gray-Green.
#5: Warm Terracotta.
The Five most trending interior wall paint colours - 2022
 #1: The Sunny Yellow.
#2: Calming Neutrals.
#3: Comforting Earthy Tones.
#4: Cheerful colours - Green.
#5: Claiming colours - Aqua Blue.
Why ZoopGo?
ZoopGo is India's leading web aggregator. It has been connecting customers with their ideal painting match for 10+ years and has served 80000+ customers so far happily. It enlists thousands of certified and licensed house painters in Uttam Nagar under one roof and consolidates one's search by making it easy and precise. Since painters associated with ZoopGo are front-players of the industry with a rich experience under their belt, a customer can rest assured about quality services.
5 Benefits of booking house painting services through us:
Certified, experienced, and licensed partners
They stay abreast with ongoing painting trends
Latest tools and equipment
Quality assurance & affordable prices
Assured timely job complication
Our offerings
Quick quotes and bookings
Excellent on-demand customer assistance
Review Dashboard for actionable insights
Short notice bookings
Book best painting services in Uttam Nagar in 3 easy steps -
Step #1 - Share your requirements to receive the First Four Free Quotes.
Step #2 - Check and compare quotes.
Step #3 - Call & book!
Reach out to us if you are looking for 'Residential painters near me in Delhi.' For further queries, call us on our 1800-12312-9655 (Toll-free number).