The Videographers in Delhi are ready to record for your occasion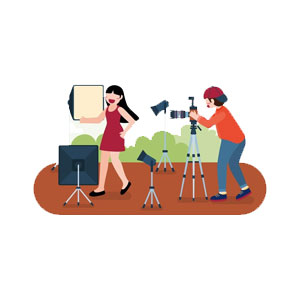 At most parties videography accompanies photography. While photographers get to capture special moments, the videographer captures everything. The Videographers in Delhi are strong individuals capable of carrying their equipment around for hours. Just like the photographers, these talented individuals have their portfolios displaying snippets from their best work. They are mostly experienced persons, who have done their courses from any of the major videography institutes.
The effort that these service providers put in for you
Most of these videographers will serve at weddings, birthdays, anniversaries, corporate events and at other occasions. There are some Wedding Videographers who will agree to only  wedding related assignments. They are experienced in working over long hours and they have followed the routine enough times to deliver the best videos. They will start when the makeup starts and end when the couple go together in their wedding vehicle.
The new offerings from these service providers
There are a number of trends in videography and the Pre Wedding Videographers are in great demand today. The couple who are getting to know each other after their engagement can meet up and enjoy some quality time together. The venues are a secluded location where they can be recorded in different dresses. The location and the dresses can be selected by the videographer or the couple to be wed can make their own suggestions.
They use the latest technology to serve you
The cameras of these videographers have evolved over the last decade and they all use the latest available in the market for best results. Today, Drone Videography Services are also available in the market for those who want to capture their occasions from a flying angle. This facility will work best for outdoor parties and those too held in daytime. 
The videography services are used for different purposes
Whenever you see fashion videos on your TV sets, someone has recorded them. This is the work of the Fashion Videographers. They usually work with models whether on ramp or for videography assignments organized for fashion channels. Often parts of their work are released on social media. They travel to the different locations selected by the directors of these assignments.
You will be provided with the best effort
Like every service provider, the videographers aim to be the best in their profession. They promote themselves as Film Videographers, producing work of the same quality as bollywood movies. They have the right equipment for it and they edit their work and present it in movie-like style. For instance at birthday parties, the birthday boy or girl are the stars for the day with the whole video based around the time and activities they do at the party.
What does the total charges for videography include?
The videography is not a one man show.
The person recording the video as the occasion goes on will have to be attentive and alert at all times.
However the video will be edited by the editors before it is presented.
The Charges of these service providers depend not only on the recording effort but on other services including editing too.
Wedding Videographers in Delhi will give you something to cherish for rest of your lives
Weddings are an occasion that most couples won't forget and to remind themselves of what happened on that day they keep photographic and video records. You will not have seen a wedding where the videography professionals are not present. Videos are nothing but moving images and the equipment used here is much more advanced than a standard camera. The Wedding Videographers in Delhi are always in demand throughout the year as weddings take place here regularly. There are a number of videography professionals who serve at weddings only and they are able to sustain themselves due to such high demand for their services.
The videographers will be with you from the start to finish
Once you decide to hire these service providers, you will be calling more than a few to assess the rates in the market. You can start with the internet though, where a number of Wedding Videography Services in Delhi have details of their rates. This is much better than going to their offices or calling them, as all the information you need is already on their websites. The wedding party is preceded by a haldi ceremony and the wedding lasts from the evening to the morning vidai. Hence these professionals need to have a good stamina to work for a duration that long.
You will have a number of packages to choose from
You have the option of telling these professionals what you need. Or else there are the Wedding Videography Packages offered by most of these service providers. These list the length of the videos you will be getting, both the unedited version and the edited highlights. They will also specify the hours the videographer will spend with you. You will be provided with an edited version for sharing on social media platforms. They will have different charges for destination weddings, according to the destinations. Some packages will even have more than one videographer to assist you. 
You can opt for Cinematic videos about your wedding
Some of these professionals are promising to provide you with videos of cinematic quality and they will even give you some samples of their work to prove it. Cinematic Wedding Videography is a term which is gaining increasing popularity in the market, as it indicates the quality of final video you will get. These are recorded in a storytelling style with the editor going through hours of coverage and selecting the best bits. They also add appropriate background musical score, to give the video a cinematic quality. 
If you are looking for the best, we will find them for you
Weddings happen once in a lifetime and you will be looking for a videography studio that will be delivering according to your expectations. If you are looking for best cinematic wedding videography in Delhi you will have to book them early as the best are always busy. The best in this business does not necessarily mean the experienced, but there are a number of creative young individuals out there too. These experts will even use drones to record your occasion from a different angle, literally!
You can follow the trends with pre wedding shoots
Every time you approach these service providers, they will ask you if you have hired a photographer as they have their business partners and they recommend each other. They will also ask you if you are interested in a pre wedding photoshoot in Delhi. This type of shoots are in trends nowadays with a number of to be wed couples opting for this service. You will be asked to make a few choices with respect to the location for the shoot and the dresses for the day. There are a number of venues close to the city offering suitable opportunities for such shoots and you can even see the portfolios of the work these service providers have done.
If you are in need of Wedding Videographers, we at ZoopGo will be able to find the best for you in your locality. We will give you 4 best quotes, without any charges on your mobile phone once you give us your requirements through our online form. As an alternative you can connect with us at the Toll-free number 1800-12312-9655.