Office/Shop Deep Cleaning Services in Delhi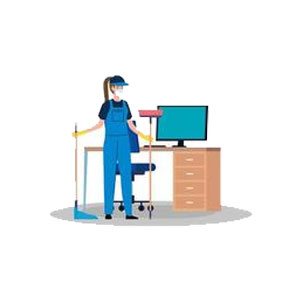 Keeping an office-shop area clean is not that easy. Due to specific climatic conditions, different challenges are faced. We at ZoopGo provide services of corporate cleaning in Delhi that are offered by experienced professionals. We adhere to quality norms that are set by various industries. We will help you to hire professional cleaning services that will be well suited for your business's every requirement such as windows cleaning, ground maintenance, carpet cleaning as well as cleaning of furniture and washroom. We will offer you the ideal office-shop deep cleaning service in Delhi.
Why is it essential to deep clean your office-shop?
It will remove stain from each and every surface.
It will clean all the furniture by power vacuuming.
It will cause the removal of grease as well as sanitization.
Why choose a professional office-shop deep cleaning service in Delhi?
Cleanliness is very essential. When the floors at your workplace are covered in dirt as well as dust and the housekeeping staffs are on a leave, then it is the worst scenario at your office-shop. With so much work pressure it is really difficult to find out a time to engage yourself in the minimum office cleaning work. Moreover, the housekeeping staff at your office-shop do not have the required training or the perfect cleaning tool to deep clean a commercial space. In order to get fresh as well as clean looks for your office you will require complete deep cleaning or carpet cleaning, furniture or blinds cleaning. Manual cleaning of office-shop would include floor-sweeping, dusting as well as cleaning of ceiling fans. Office-shop deep cleaning will include cleaning of each and every corner of your office-shop in the perfect possible way. Thus comes the need for ZoopGo. It will provide you with professional deep cleaning services for your office-shop that make use of all the necessary equipment to clean dirt and provide proper deep cleaning as well as maintenance services. Our office-shop deep cleaning service is available in Delhi. At ZoopGo, you will be able to get hold of professional cleaning services that are popular among various clients from small businesses to MNCs. Other than this, office-shop deep cleaning provides everything that any standard cleaning by a housekeeping staff will never. In some cases, the tolls and manpower involved in the cleaning process are higher.
What should be done before hiring an office-shop deep cleaning service?
At ZoopGo, we suggest you keep your desks and tables as well as drawers empty by removing the expensive as well as valuable items before the cleaning begins. Anything that is kept outside must also be removed. We also recommend you to have a discussion in detail with the professional that is assigned to you by us so that you can let them know about your expectations from their service.
What is the promise of ZoopGo?
We promise to provide you professionals who are highly experienced and hold great quality standards. They also use products of excellent quality such as cleaning tools and products that are of a high standard along with offering customer protection in case of each and every damage.
Why choose ZoopGo?
Provide genuine professionals: It will provide you professionals whose background is checked well and verified.
Hire and have excellent deep cleaning experience: It will offer a list of professional deep cleaning services for office-shop that will create a superior cleaning experience.
Make use of the latest solutions: In order to maintain customer delight, the professional makes use of solutions based on technology as well as cleaning based on knowledge.
Having knowledge about the right products: The professionally trained as well as properly groomed staffs have great knowledge of the usage of excellent products.
Usage of good quality products: We will provide you with professional help who will use branded as well as standard products.
Give environmental friendly solutions: The professionals give importance to solutions that are eco-friendly.
So if you are working in Delhi or owning your own shop in the city, then deep cleaning office-shop is essential. But with the help of internal staffs it deep cleaning is not possible. So for quality as well as affordable commercial deep cleaning in Delhi, contact ZoopGo today.