Know A to Z about the Best Carpet Cleaning Services in Delhi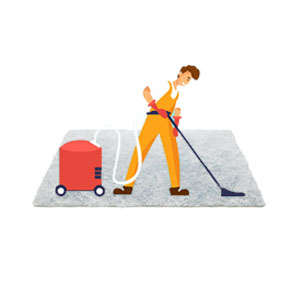 Colorful Designer Carpets are a beautiful asset to any home or office – soft underfoot, warm and beautiful to look at and walk on. If you've spent quality carpets they can last for years, but you need to ensure that they appeal their best and are properly cared for through top Carpet Cleaning Services in Delhi and any other place, so that they may last for 4-5 years easily. A standard carpet can last between 3-5 years before it becomes frayed, but wool carpets may well last for longer if they are thoroughly looked after – and wool rugs can last even for decades if they are regularly maintained in an adorable way.
What Carpets are made of?
In general, beautifully designed carpets are made from thick fabric floor coverings with an upper pile layer affixed to the backing. Carpets will swiftly sit on an insulating layer of underlay for comfort and warmth. There are different types of carpets and rugs. Earlier, carpets were made from natural wool (woven carpets), but nowadays, these are made from different materials. These have the benefits of being very easy to look after, affordable, and have significant properties for different parts of the interior. Safe Carpet Shampooing in Delhi and other cities after frequent intervals definitely increase their longevity and beauty.
Today excellently adorable Carpets are being produced from the following materials:
Polypropylene
Nylon
Polyester
Synthetic
What makes Carpet Cleaning Services in Delhi so necessary?
Hardwood floors or laminated floors easily catch heaps of dirt and dust. Moreover, it is possible to see the level of household dirt that builds up becomes easily visible. Broken hair, skin cells, tiny twigs, pet hair, dust, light feathers of birds, dirt, bacteria, soil, and similar things all gather inside your home and get affixed to carpets easily. Thus, a carpet appears clean but a close inspection reveals the clouds of unnecessary particles making Carpet Cleaning Services in Delhi absolutely essential.
What types of Carpet Cleaning Services in Delhi are available?
There are various options to opt for Carpet Cleaning Services but it all depends upon the requirement and carpet material. Let us know about some most popular and latest options –
The carpet shampoo technique is one of the most common techniques used by professional carpet cleaners. It is one of the most secured cleaning options that remove all stains, dust, germs, and soil from the carpet. It is the most authentic process for getting rid of heavy soil from the carpet's fiber.
A truly skilled professional initiates the process by applying a branded cleaning shampoo on the carpet and then scrub gently with a perfectly suitable moisture brush. This generates opulent foam, which in turn, brings all the dust and dirt out. Once the entire cleaning process gets over, the carpet is deeply vacuumed to remove soil particles and leftover shampoo.
Hint:  Ensure that the carpet is left for enough time to dry up completely before the vacuum cleaning process starts.
It is generally called hot water extraction and is probably the most effective but a bit expensive method for carpet cleaning than Carpet Shampooing Services in Delhi. It includes efficiently advanced machines that inject/spray hot water and specialized cleaning material into the carpet. Then it is extracted by a machine, which leaves the carpet looking and smelling exactly like new.
Hint: Stem cleaning needs more expert professionals who can execute the entire process skillfully.   
Some other major Carpet Cleaning Services in Delhi –
The Bonnet Method
Dry Cleaning
Preconditioning
Encapsulation
Although, apart from the above carpet cleaning options, there are some more ways exist too. But, Carpet Shampooing is popularly known to be the most secure and affordable way to make your beautiful home carpet as clean as new.
Carpet Cleaning Services FAQS
How to opt for the most authentic Carpet Cleaning Services in Delhi?
In the age of advanced technology, everything is easy just with your smartphone. You just have to download the automated online ZoopGo App on your mobile from Google Play Store. Open it just as other applications, fill the online inquiry form with simple details, and get 4 most suitable quotations from 4 most trusted, certified, and affordable Carpet Cleaning Service Providers. Now you need to compare wise and contact the most perfect one that suits your requirement and budget exactly. Remember, It saves both your Time and Money up to 30%.
How do set your rates for Carpet Cleaning Services in Delhi?
ZoopGo considers your inquiry form thoroughly and on the basis of your requirement and other information (given by you), sends you 4 most suitable Quotations from different Carpet Cleaning Service providers. Now, you need to compare properly and choose the most appropriate one who suits your budget and requirement fairly.
Do professionals bring their own equipment and cleaning supplies?
ZoopGo is strictly committed to bringing its customers the most desiring experiences. However one should make it clear with the suitable service provider in advance while making the final deal. However, most of the cleaners registered on ZoopGo App bring their own cleaning materials and necessary equipment. 
Should I clean my carpets myself?
Perhaps you do not have specific equipment that may not bring out the most desirable result. A professionally skilled employee liquidates his best expertise with adequate cleaning materials in the right ratio and operates with advanced carpet cleaning tools. It saves both the longevity and shine of the carpet.
Why does my carpet look worse after cleaning?
There would be various reasons as to why your carpet looks bad after cleaning. It may be due to wicking or residue that has been left over. Yet, there's no need to worry. You can easily remove these spots to get your carpet back to pristine condition with a thorough scrub down and some shampooing. However, it is advised to book the most accomplished Carpet cleaner by ZoopGo App at the most competitive cost.