Grab the Top-Notch Kitchen Deep Cleaning Services in Delhi via the Wonderful Platform of ZoopGo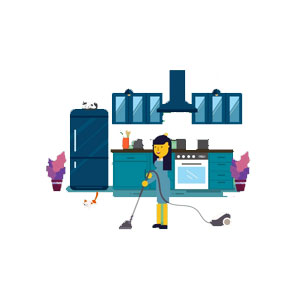 The demand for cleaning and deep cleaning services is in vogue due to COVID-19. The kitchen is the heart of the house where we not only cook foods but also serve them effectively. Therefore, this place in the entire house attracts loads of bacteria, fungi, moisture, grease, and smoke. To keep our kitchen neat and clean, we require professional Kitchen Deep Cleaning Services in the top metropolitan cities like Delhi NCR. But amidst the presence of loads of kitchen cleaning service providers, it is hard to identify the service providers who do not provide run-of-the-mill-services, instead provide excellent services to us.
Why Your Kitchen Requires Deep Cleaning Services?
To Remove Accumulated Dust over Varied Parts: The kitchen has diverse parts that require deep cleaning services. For instance, you may think of acquiring professional services related to varied parts such as Kitchen Sink Cleaning, Kitchen Floor Cleaning, etc. As these are prime areas where loads of dirt get accumulated, these areas may require professional deep cleaning services.
To Exterminate Sticky Patches: A kitchen is a key place that requires deep cleaning services due to the accumulation of sticky patches and germs inside the place. Therefore, you will require Kitchen Cabinet Cleaning services from professionals.
For Amendment of Working Conditions: Working in the kitchen is quite difficult if we have dirt and debris all around. Therefore, if you want to improve the working conditions in your kitchen, say if you want to prepare healthy food, you must amend the working atmosphere of your kitchen.
How to Grab the Best Kitchen Deep Cleaning Services in Delhi?
By approaching the following sources, you can easily grab efficient deep cleaning services in Delhi.
Ask for references: If you want to hire kitchen deep cleaning experts, ask for references from your family, friends, relatives, colleagues, and other acquaintances.
Scour the Internet: Scout the internet wisely to connect with the top five kitchen deep cleaning service providers.
Hunt the Professional Online Portals: You should hire the Top Online Portals such as ZoopGo to get the best and verified professional service providers via an esteemed platform.
How ZoopGo Helps You in Connecting with the Top Kitchen Deep Cleaning Services in Delhi?
Log on to our website ZoopGo.com and select the tab of Deep cleaning services.
Now, you should explain your key requirements to us. For example, you want to adopt for the services of Kitchen Wall Cleaning, communicate the locality that is in which areas you will require kitchen deep cleaning services.
In the next step, you should communicate a specific date on which you want to have our services.
Once you identify the date, you can get quotes from at least three to four service providers, compare charges, and hire the best after comparing ratings, and reviews, etc.
You will get access to verified service providers only as our experts check the original Pan Card, Aadhar Card, and Certificate of Incorporation from our service providers.
How to Contact ZoopGo to Connect with the Best Deep Cleaning Service Providers in Delhi?
To connect with our verified services, you can dial our toll-free number 1800-12312-9655 or shoot an email to us at [email protected].
Frequently Asked Questions:
Is ZoopGo a Suitable Platform to Pick the Best kitchen Deep Cleaning Professionals?
Yes, ZoopGo is a suitable platform from where we can easily pick the best and verified deep cleaning service providers. ZoopGo is a one-stop platform for connecting you with the best deep cleaning services by saving your overall cost up to 25%. We also offer a dashboard facility to our customers where they can compare reviews and ratings and select the top deep cleaning service providers in Delhi.
What is the Price of Acquiring Kitchen Deep Cleaning Services in Delhi?
Many people are quite curious about attaining the best deep cleaning services at affordable prices. So, here we are mentioning the key rates for deep cleaning services in Delhi for One BHK, Two BHK, and so on.
| | |
| --- | --- |
| The Type of Kitchen Cleaning Services for Different Home | Kitchen Cleaning Prices |
| One BHK Kitchen for deep cleaning services | 1150-1250 INR |
| Two BHK Kitchen for deep cleaning services | 1300-1400 INR |
| Three BHK kitchen for deep cleaning services | 1400-1500 INR |
| Four BHK Kitchen for deep cleaning services | 1500-1600 INR |
What are the Perks of Acquiring the Best Kitchen Deep Cleaning Services?
The perks of acquiring the best kitchen deep cleaning services are time-saving, effective resource utilization, and effort-saving. Therefore, ensuring the support of the top online portals is a great platform to root out your worries.