Get connected with Best Destination Wedding Planner in Delhi at ZoopGo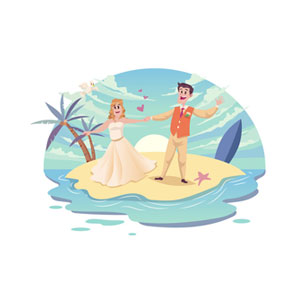 Getting married is one of the most beautiful dreams for each and every one of us. In this modern world of 2022, destination weddings are so in trend these days that every individual wants to book a destination wedding planner in Delhi to plan their wedding energetically. To make your wedding days special, you have to scout various locations that perfectly suit your wedding theme. There is a massive list of wedding planners that select the best wedlock venues. 
We at ZoopGo connect you with multifarious wedding planners. A good event planner can make or break your special day. You have to choose wisely! 
Top 8 destination wedding locations suggested by ZoopGo 
ZoopGo has fabricated an exquisite list of Indian destination wedding locations.
 Here you go!
(1) Udaipur-  Out of all the destinations, Udaipur is known for royal weddings and vibrant photoshoots. Here, historical forts and splendid lakes add beauty to your wedding pictures. This is the perfect location for all the majestic ceremonies. 
(2) Goa- Hey! All the beach wedding lovers, where are you? Goa is a high-rated honeymoon destination and an excellent destination beach wedding venue. Those splendid beaches with a pinch of sunset vibes are the perfect combination for wedding rituals. If a wedding has to be momentous then why not appoint beach wedding planners in Delhi to add some cherry on top? 
(3) Himachal Pradesh- Team mountain will surely love the idea of getting married in the middle of lofty mountains. Doesn't it feel dreamy? Getting married to the love of your life is a big achievement. Make it even more peculiar by opting for hills wedding planning services from ZoopGo. 
(4) Kerela- Imagine tying the knot amidst the blooming beaches of Kerala. It is known for its rich culture and tradition. Also, you will find a range of picturesque resorts to arrange the wedding.
(5) Agra- Getting married in the city of love itself where Shahjahan built the Taj Mahal for his Mumtaj is thrilling. Plan your wedding here in the "Utopia of Love" to get the best wedding pictures. 
(6) Andaman and Nicobar islands- Get hitched in between the blue skies of Andaman and Nicobar Islands. Beaches such as Havelock, Merk Bay, Elephant beach, etc are the perfect places to organize your wedding.
(7) Gurugram-  Gurgaon? How? As some people don't prefer to plan a wedding in a faraway place but they expect to have a destination wedding. For that reason, Gurugram-Manesar is the perfect location to enjoy a destination wedding. To arrange a beautiful setup for a wedding, book destination wedding planners in Delhi. They assure you of the quality services from regal to minimalistic.
(8) Jim Corbett- Nainital-  In between the forests and mountains, getting your "Varnmala" done is unbelievably fantastic. The city has developed several noble places to plan weddings. Numerous people visit Jim Corbett to plan their weddings. 
Lastly, wedding planning demands a creative mind. That's why ZoopGo has put together a variety of multiple verified service providers at your location at an affordable price.