Discover the Best Photographers in Sector 44, Noida, through ZoopGo to Convey Your Story Artistically!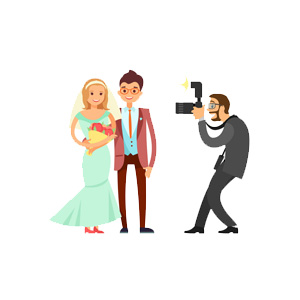 Behind every photograph, there's a story to tell. However, photography is an intricate art form. Therefore, despite having high-quality camera phones, many fail to capture the essence of a moment. That's where the artists whom we called PROFESSIONAL PHOTOGRAPHERS come into play. They understand that photography is not just about capturing what you see but what you feel. With their artistic approach, they capture moments in all their fancies and flavor and leave you with memories you never want to forget. However, it is challenging to find such true artists among the plenty of options available. It is where we at ZoopGo, a leading web aggregation platform and a prominent online marketplace, come into play. We bring thousands of professional photographers in Sector 44, Noida, under one roof to make your search simple and memories worth remembering. 
Hire photographers in Sector 44, Noida, with us to capture your wedding moments! 
Marriage is one of the most precious, once-in-a-lifetime events for every couple, from which they begin their journey of eternal love and lifelong togetherness. The day is made up of thousands of little beautiful, sacred moments and emotions. Every moment is worth capturing, and top wedding photographers in Sector 44, Noida, understand the value of those heartwarming moments. They strive to tell your love story in the most unique way through their lenses, making memories priceless that melt your heart and reignite your love every time you see them. Also, you can hire professional videographers in Sector 44, Noida, with us. 
Whether you have met for the first time or have been dating each other for many years, the pre-wedding phase, which is considered the wedding countdown phase, is important for every couple. Plus, the phase deserves to be captured by professional lenses. You can hire pre-wedding photographers in Sector 44, Noida, with us for awe-inspiring, heartwarming memories. 
Book photographers in Sector 44, Noida, with us to capture your Success Moments 
In this competitive digital era, creating a specific identity for your business and sharing your success stories with the world is vital. Top corporate photographers in Sector 44, Noida, help you to creatively demonstrate your idea and vision to connect you with customers while setting you apart from the competition.
Connect with photographers in Sector 44, Noida, through us to make your brand roar! 
We are also associated with top fashion photographers in Sector 44 Noida, who can help your brand shine and make you a star in the industry. With their artistic genius, they will capture trends, lifestyles, and fashion in its full capacity. 
Exclusive offerings just for YOU! 
100% Accredited Photographers 
Saving Up To 25% on Booking 
First-Free-Four-Quotes instantly 
Excellent Customer Assistant 24/7
Last Minute Booking Facility 
Review Dashboard 
Excellent services are just a phone call away!
Call us at 1800-12312-9655 (Toll-free) or share your requirements by completing the available quote request form on our site to book the best photographers near me in Noida. Also, you can write to us at [email protected].