Book the best photographers in Sector 12, Noida, with ZoopGo to frame your emotions beautifully!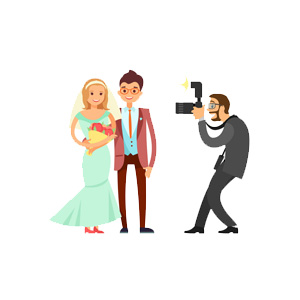 Memories are timeless treasures! Photographs are the most excellent way to keep in touch with the cherished past. If you want to remember precious moments of your life, consider hiring professional photographers in Sector 12, Noida, through ZoopGo, India's one of the most trusted and highest-rated web aggregator platforms with thousands of verified and prominent photographers. 
Treasure your wedding memories forever with us! 
Wedding photography is an art and not clicking and showing. Wedding photographers in Sector 12, Noida, listed with us understand just that. They offer pictures that exude vibrant interpretations of love, joyfulness, and rituals. They strive to exhibit a tapestry of ceremonies and feelings intertwined with their visual art to provoke imagination and wistfulness. If you want to capture some beautiful moments of togetherness before beginning your eternal journey, consider hiring professional pre-wedding photographers in Sector 12, Noida, through us. You can print those photographs on your wedding album. Plus, play them as a slideshow at your wedding reception. Isn't it romantic?! Ha! 
Let your brand shine with us! 
Show and not just say! If you want your business to outshine the competition, consider investing in commercial photography. Studies reveal humans remember 20% of what they read and 80% of what they see.  Photographs taken by a pro can craft a story, display, and convey your brand's message uniquely. Corporate photographers in Sector 12, Noida, help you showcase your brand's product and service in a professional manner, capture your client base, draw them in, and accelerate your business growth. 
If you want to promote your clothing or accessories line or establish a career in the fashion industry, consider hiring fashion photographers in Sector 12, Noida. Fashion photography professionals listed with us understand the concept, style, and psychology behind your brand. They tell the story through their photographs that go beyond the surface. 
Top photography services are just a few clicks away! 
Among the plethora of photography services, finding the one that best suits your needs and budget is quite complex. You can't rely on anyone and everyone for your memories. Therefore, ZoopGo. At ZoopGo, we connect you with the photography partner from Noida by refining your search. Share your photography needs with your contact info to book photographers in Sector 12, Noida. Our team will check your query and get back to you with First Four Free Quotes. You can check and compare those quotes based on offerings and choose the one best suits your needs and schedule. Moreover, you can book top videographers in Sector 12, Noida, through us to encapsulate the pure emotions and tell your story from start to finish. 
Our exclusive offerings 
Verified Service Partners 
Quick Quotes
24/7 Customer Support 
Personalized Dashboard 
Prompt & Economical 
At your service
Happy to assist! Call us at 1800-12312-9655 (Toll-free) to connect with professional photographers near me. You can also drop us a line at [email protected].