Wedding planners in Noida: the long process made short and easy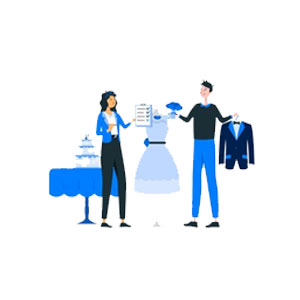 A wedding is once in a lifetime occasion for most couples. It's a day you want to remember and celebrate this union of 2 individuals with your near and dear ones. The bride's family needs to organize umpteen things for the party and so does the groom's. You want everything to be perfect for the couple and for the guests. Sometime back you would have to plan and arrange everything about the wedding yourself, but now there are Wedding Planners in Noida, who assist you in arranging the wedding invitation cards to honeymoon planning.
Planning the wedding
Who all are involved in planning the wedding - you, your family and your friends. You all will have to sit for hours to arrange everything and spend days arranging all the different service providers. This is where the wedding planners come in, they have done all this planning for hundreds of couples, going through the same motions, and will arrange in a day what may take all of you a month.
What all is required for a wedding?
Well, you start with the invitation cards (nowadays a bulk email would do, but even that needs designing), the right venue, decorations of the venue and vehicles, fashion designers for your wedding dresses, jewelry designers, makeup professionals, Mehndi girls, caterers, photographers, videographers, DJ or musicians, professional wedding priests and honeymoon planners for everyone likes to start on a relaxing note. You can see the big list of the important activities above and to make everything successful you will need experienced staff to expertly deliver what you have planned. These wedding planners sit with you, list your every requirement, and provide you with the plans they have and their prices. 
ZoopGo and wedding planners
ZoopGo is a portal for all kinds of service providers including party planners and we will help you find the right wedding planner for you. You need to choose your budget, the number of guests, your wedding date, and the location you are aiming for. Instantly you will get the 4 best quotes from the party planners that best match the criteria selected by you.
Choose from the best
ZoopGo is different from other wedding planner sites, as we just don't list 1 wedding planner, but give you a list of these planners and you can choose the one that best matches what you need. There are venues, decorators, caterers and other service providers in every locality, but our wedding planners choose the best among these for you. They have all been associated with each other in the past and know how they work and serve. Yes, you may feel that they know each other and there may be shortcomings which they cover for each other, but wedding planning is a highly competitive market and any loose ends will be heard about in the entire market.
ZoopGo lists Wedding Planners in Noida after background checks and making sure that they are registered and serve what they have listed. Most of them have excellent reviews online about their good work from happy and satisfied customers.