Top Wedding Planners in Mumbai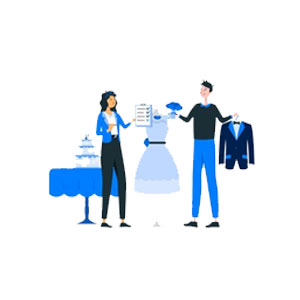 Wedding is globally considered to be the most awaited function in one's life and so everyone wants to organize it in a distinguishing way. Every individual wishes to organize it in the most magnificent situation and grand location. People make all the stunning arrangements, like foods, dining arrangements, decoration, etc. to enjoy this occasion with all kith and kin altogether. At this juncture, hiring the most competent Wedding Planners in Mumbai is the most vital concept. Here at this point of extreme confusion, ZoopGo would assist you superbly. The best thing that you get benefitted with ZoopGo Online Platform is finding the best planner easily, quickly and under your budget. Moreover, for all these things, you are not required to go anywhere out of your home.
ZoopGois a Cloud-based Online App that lets you find the most reputed and efficient Wedding Planner for your customized wedding arrangements. Apart from its Web Portal and Mobile App, you can avail the quickest assistance by calling on it's Customer Support Toll-Free Number 1800-12312-9655.
Considerable Points That Will Enhance Your Belief For Relying Upon ZoopGo To Hire Wedding Planners in Mumbai
For your wedding you need to arrange number of things to make the entire occasion go incredibly memorable. A little fault would bring complications at any point during the session.So, everything must be arranged thoroughly and you must keep in mind that it must not exceed your wedding budget.So, ZoopGo would assist you find the most justifying planner whose expertise, and budget may fulfill your customize wedding arrangement requirement.
The most enticing chapter is that you can appoint the most desirable wedding planner within minutes and you do not need to go even out of your room for this all.
It is available both as an online Web Portal and Mobile App. However, you can get instant and prompt support from its 24/7 customer support team at any point of confusion.
It enrolls only truly certified, efficient, and top-rated wedding planners. This ensures you obtain the most befittingWedding Planners Prices Packages Mumbai from leading planners.
ZoopGo is a two-way connecting channel that provides planners the biggest platform to get more businesses and customers get the right service provider easily under a single roof.
Most Important Things To Be Discussed in Detail With Your Wedding Planners
Afterchoosing out the most preferable quotation from the bunch of quotes of different planners sent to you by ZoopGo, you need first to talk to him and fix a meeting schedule for face to face discussion on different aspects. Some of the most considerable topics are mentioned hereunder –
Date, Day, and Timing
Suitable Venue
Mode of decoration
Customized rituals
Number of Guests
Number of rooms (If required)
Style of decoration and lighting
Menu and special number of plates
Mode of dining
Beverage Items
Food Serving Staffs
Photographer (If required)