Car Rubbing Services in Mumbai: Serving with Pride till you are Satisfied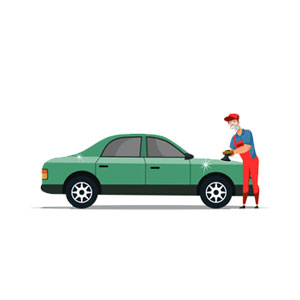 Any car new or old, used every day or just on weekends needs to be maintained. It's not only the engine and the mechanical side of things that one looks after but you want your car to be presentable to everyone. You want - the painted portions of your vehicle, the windscreens, glass on doors, the rearview mirrors, your seats, steering wheel, gearbox, bottle holders, door panels, indicators, wheels, music system - everything to be neat and clean. 
Making Choices
As always you have two options - Do it Yourself or get someone to do it for you. So, what does the cleaning process involve? You have the interiors and the exteriors to clean. You can begin with whatever part you feel like cleaning first. For the exterior, you will need chemicals like detergent, sponges and plenty of water.
You can scrub and rub till you are satisfied that all of your painted portions and the glasses and other glass items are clean. Vacuum cleaning of the interiors, mostly your seats and carpets is always recommended. It sucks out all the dirt and everything else that your simple brushes will never be able to achieve. Now all the other parts of the car that don't seem clean can be cleaned with scrubbers and chemicals of your choice. 
Why Professional Cleaners?
As you have seen from the above description of what all will be involved - you clearly know that a lot of time and effort is required for cleaning your car. If you are ready, that's very good, but if you want to go to the professionals, ZoopGo is here to help.
These professional cleaners are again of two categories - firstly those who come to you and second those you have to go to. That is either you can go to the garage of your choice or call the car cleaners to your premises. Hiring professionals will not only save you time but they will do what will be expensive for you to do.
Shampooing and Car Polishing Services in Mumbai are also available. These professionals are also capable of cleaning the engines and other mechanical parts of your car, without disturbing anything in your car. They are expert disinfectors when it comes to cleaning the interiors of your car. At the end of the cleaning you will find your car extremely hygienic and fresh.
Trust ZoopGO to Find Car Polishing Services Near me
We at ZoopGo find the service providers that are local to you and best for you. You will need to specify the type of cleaning service you need for example for your entire car or for some parts of your car. Next, you can choose your car type and brand from the list provided by us and finally enter the place where and the date when the cleaning is to take place. Within a few minutes you will have 4 best quotes from us on your mobile. 
What are the Car Polishing Services in Mumbai charges?
Car cleaning services vary by the model and brand of your car, as the size and the structure of every car is different. Different services are charged differently. You may have to pay a few hundred to a few thousand depending on what you want to get done. The final charge will be the same as what has been quoted to you.
How will ZoopGo help you with car cleaning?
We list the service providers, in this case car cleaners registered with us. We perform background and documentation checks for these service providers. Most of these service providers have excellent reviews about them on the website.
These cleaners are very experienced, having gone through the complete or partial cleaning processes hundreds of times. They do this type of cleaning multiple times every day, while you watch your car professionally cleaned maybe once a month. Every time they give a personalized experience to their customers.