Book Reliable Pest Control Services in DLF Gurgaon through ZoopGo for Guaranteed Solutions!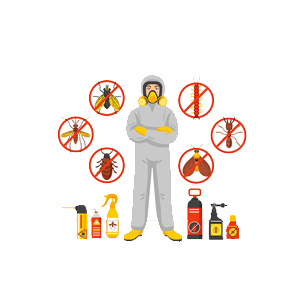 "Ahh! that black-colored, poisonous lizard carrying a cockroach in her mouth was right there, and now it just vanished!" And the terror begins. The actual fear of creepy pests started when they disappeared, no pun intended. You may overcome fear, but what about the destruction and diseases they cause?
Simply put, a single insect at home causes harm to your health and wealth. Hence, consider discovering professionals offering quality pest control in DLF, Gurgaon, through ZoopGo, India's preeminent web aggregation platform, because it is better to be safe than buggered.  With thousands of pest control companies, we at ZoopGo intend to connect you with highly-regarded and experienced Gurgaon's pest control professionals to suit your budget and needs so that you can get rid of these creepy nuisances without breaking the bank. 
Commonly find insects in Indian households and workplaces 
Ants, termites, spiders, flies, mosquitoes, cockroaches, rats, and mice are some common pests that can be found in homes and offices. Our partners remove these bugs with a 4-steps strategy, including: inspection, execution, prevention, and disinfection to provide a complete solution. Moreover, you can book professional rat control in DLF with us. 
Pests control services in DLF, Gurgaon, you can book through us! 
You can find and book various pest control services under one roof with us, such as cockroach control, rat control, mosquito control, termite control, Lizard Control in DLF, etc. Here are some signs to identify infestation: 
(1) Trembling furniture or other wood items 
(2) When you discover nests of insects at your place
(3) When you start seeing bugs on your clothes 
(4) Pests like bed bugs and cockroaches leave a nasty smell, so if you feel a weird smell in your home, consider calling experts for inspection and getting services for bed bugs and cockroach treatment in DLF. 
Factors determining pests control charges in DLF, Gurgaon 
Conventional or DIY methods are futile for these evil-like creepy creatures. Treatment with store-bought chemicals and pesticides is a complete waste of time, effort, and money. Hence, you must reach out to certified elimination experts. They have access to cutting-edge technology and powerful, industry-grade chemicals to kill the even toughest pests. Average pest control charges in DLF, Gurgaon may range between ?799 to ?6999 or more for residential properties and ?10 per sq ft to ?18 per sq ft for commercial properties, depending on the type of bug, kind of treatment, area of premises, level of infestation, number of treatment applied, etc. 
On the same note, termites, also referred to as white ants, as indoor insects can cause significant structural damage. You can book professionals for termite control to save your sweet abode from becoming a haven for pests. Cost of termite control in DLF may range between ?3199 to ?6299 or more. 
Exclusive offers
First Four Free Quotes from Verified Partners 
An Excellent Chance for Saving Up to 25% 
Friendly 24/7 Customer Assistance
Actionable Insights with Review Dashboard 
Last Minute Booking Facilities are Available
Happy to assist! 
Call us at 1800-12312-9655 (Toll-free) or post your requirements by completing the quote request form available on our portal to get the best pest control services in DLF, Gurgaon, near me.