How Car Cleaning in Ghaziabad will help you make a good impression?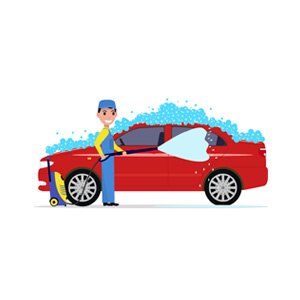 Just as you get your car serviced regularly so that the engine works properly, the tyres respond well to the steering wheels and for a smooth driving experience, you must get your car cleaned on the outside and inside regularly. You want to make a good impression on others and cars are an indicator of social status in some societies. You also want to drive in an odourless vehicle, where sitting and driving is an enjoyable experience.
Services for Home Car Cleaning Service provide doorstep or door to door facilities, i.e. they can clean your car in front of you or take them to their garage and deliver it back to you once the cleaning is done.
What does car detailing involve?
Car detailing involves cleaning everything apart from the mechanical parts of the car. Your car wheels, windows, seats, dashboard, painted surface of the car will be cleaned up using different cleaning methods. Full detail will involve cleaning the above-mentioned parts of your car while you can also get only a few parts of your vehicle detailed. Car Detailing Services in Ghaziabad are highly professional and eager to serve you. They will always provide you with a menu card, listing what they can do and you just tick what you need. You will be quoted an amount that can always be negotiated.
How you can keep the good looks of your car even as it ages?
If you have been a car owner for a long, you would be aware of what your car likes and doesn't. If you have properly covered parking spaces your car will be in better condition than if you park it in open spaces. Car Rubbing and Polishing in Ghaziabad can be done by you yourself or you can hire car cleaning services. This activity generally works on the paint of the car. If there are any scratches these can be removed and a layer of wax can be added to the paint so that there is an extra layer that will take any hit on your paint from natural or man-made elements.
What is involved in the interior cleaning of a car?
Different cars have different types of interiors especially the seats whose covers are mostly leather-based. Car Interior Cleaning Services in Ghaziabad will clean the seat corners with a vacuum, the air conditioner will be foam cleaned, the carpeted parts of the interior will require vacuum cleaning too, the rest of the interiors will be cleaned with scrubbers and cleaning towels.
How to keep your car exteriors in good condition?
If you expect the paint of your car to keep shining then you must clean the exteriors of your car as often as you can. Water through water hoses at great pressure will clean the dirt and dust out of your car exteriors. Car Exterior Cleaning Services in Ghaziabad will make sure that the lights, wheels, plastic portions of your car exterior stay in good condition. 
We at ZoopGo are here to assist you in your search for service providers including car cleaning services. You need to fill a small requirements form to connect with us. Just let us know what you need to be cleaned and the type of your vehicle with your location and date when you need these services. Please provide your contact details and in moments 4 best quotes, free of cost will be on your mobile. Alternatively, you can call us at 1800-12312-9655 for your requirements and queries.