Hire the Best Photographers in Sector 16 Faridabad through ZoopGo for beautiful memories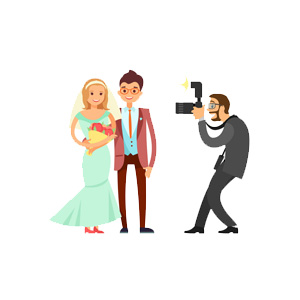 We live in a world where everything is temporary and fades away with time, except memories. Memories are eternal. Beautiful moments must be captured excellently, so one can take a trip down memory lane and relive the moment whenever they feel like it. That is to say, photography is an art, and not anyone has excellence in it. Therefore, hiring professional photographers is imperative to capture the moment and cherish it for a lifetime. Keeping the context in mind: if you are looking for the best photographers in Sector 16 Faridabad, look no further; ZoopGo has your back covered. ZoopGo, with over a decade of experience, 45000+ happy customers, and 1500+ service providers, is India's top-rated portal. It strives to connect the customers with state-of-the-art photography services to fulfill their all photography needs.
5 crucial questions to ask photographers in Sector 16 Faridabad before hiring them -
In a world seemingly full of choices, picking one is challenging. However, you can get things under your belt by asking them some important questions. Here are five ones.
What is your favorite event to photograph?
It will help you get a sense of their passion. Hiring a photographer who lives and breathes photography is imperative. If a photographer is not passionate about their craft, you will not get the best result. When you see their face shot, you can get an idea about their work.
Do you work alone?
Some photographers work alone and some on the team. This question is essential to ask as if the photographer gets sick, who will fill in for them? Also, if you want lots of options for each photograph, working with a team is imperative. Several photographers give you one memory from different angles.
Can I have a complete breakdown of fees?
No one likes getting slammed with extra charges. Therefore, you must ask your shortlisted photographer to provide you with a written photography estimate. Plus, ask them for a full breakdown of the costs before booking their service and a list of everything included in their packages.
What happens if it rains on the event's day?
It is a tricky one. This question is what differentiates experienced photographers from newbies. A professional photographer, with his experience, can manage unforeseen events of the day in his creative process. He will use those surprising events as an element and add a beautiful touch to your story. Apart from this, you can use ZoopGo to connect with well-regarded maternity photographers in Sector 16 Faridabad.
How long after my session should I expect to receive my photographs?
Do you hate waiting? Don't worry! You are not alone; most of us hate waiting. Therefore, you have to ask your photographers beforehand when you will get to hold your precious memories in your hands and share them with the world.
5 reasons for hiring photographers in Sector 16 Faridabad through us -
Quick solution - Among the plethora of options, picking the right one is challenging. However, you can cut through the chaos and connect with the verified, licensed photographers in Sector 16 Faridabad through us at ease and instantly. You can connect with the best pre-wedding as well as wedding photographers in Sector 16 Faridabad through us.
For beautiful memories - Photographers listed with us are the front players of the photography world. Plus, they understand that every moment is meaningful and strive to convey the essence through their pictures. 
First, free four quotes - You can obtain no-obligation, free quotes from the top four photographers by listing your queries on our platform. Suppose you are looking for professional fashion photographers in 16 Faridabad, you can mention your requirements and your details with us, and we will send you quotes for the same shortly. Besides festive events or photoshoots, you can choose us to connect with the best corporate photographers in Sector 16, Faridabad.
24/7 care - In an always-on world, offering 24/7 support coverage is vital. Therefore, our dedicated support team provides round-the-clock service to our customers to resolve their queries at any point in time. We understand the worth of the pre-wedding phase and thus connect our customers with the best pre-wedding photographers in Sector 16 Faridabad.
Dashboard - Our unique Dashboard feature enables our valued customers to check reviews of listed photographers, compare their services, and make a choice accordingly.
For any further assistance or queries, you can call us on our toll-free number - 1800-12312-9655.