Hire Best Photographers in Ballabhgarh at ZoopGo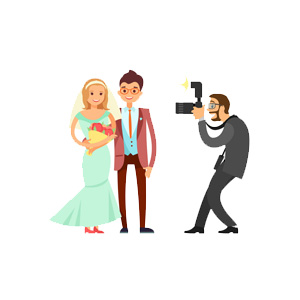 The photographers that ZoopGo lists are the greatest in their field and are rated as the best professionals to photograph weddings, pre-weddings, and corporate events. Choose the ideal photographers in Ballabhgarh for your own wedding photos by being inspired by the images of compassion and real love captured by the city's most accomplished photographers.
Hire the professional photography service you need
If you've ever needed to use a professional photographer, it's probable that you've struggled with the decision of whether to enlist the assistance of an amateur friend to take the images for your project or event. At ZoopGo, we want to help you dispel this ambiguity and understand how crucial and pleasurable it is to work with a professional photographer.
Why choose a professional photographer at ZoopGo?
A professional photographer makes a living doing what he knows best and has all the necessary resources to carry out his activity. Among the advantages of hiring professional photographers through ZoopGo are:
They have a wide photographic background and experience that allows them to successfully solve any problem that may arise during a photo session.
They bring high quality to all their work. They control details like lighting, framing, shots, and focus. They find the ideal places to capture the best moments and thus create creative and natural photos.
They take care of the whole process. A professional photographer manages, organizes, performs and delivers the project.
They know the world of photography thoroughly. In addition, they keep up to date with everything related to trends, marketing, customer relations, production processes and other organizational issues of the business.
They have state-of-the-art photographic equipment, lighting and photographic studios. In addition, they also have a human team at their disposal for when the project requires it (photographers, make-up artists, stylists, assistants...).
They provide an ethical and professional service. They also advise you at all times and are punctual in deliveries.
Just as you don't leave many aspects of your life or your work in the hands of any amateur, the same has to happen when you need quality photographs. It is the only way to also guarantee the best results.
What does a professional photography service offer?
At the moment you decide to hire a professional photography service, you will also realize all the categories that you can find:
Wedding Photography
Product photography
Social events
Corporate shoot
Advertising
Fashion
Pre wedding Shoot
Maternity Shoot
Whatever type of photography you need, there is a professional photographer capable of offering you the best service.