How to appoint a reliable wedding planner in Faridabad at Zoopgo?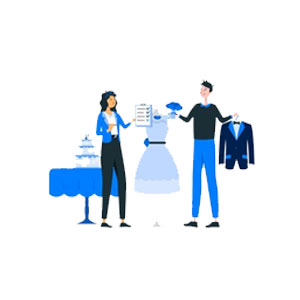 Hence, there're various things to know before you're going to hire a professional wedding planner in Faridabad. Therefore, it will be better to understand how and where to get a better planner. Hence, such services can be beneficial because it saves your time and values your money. That's why you can go with a reliable one. 
What are the things to know before you're going to hire an experienced provider?
First, of all, it is necessary to understand that what you require can be your destination wedding, pre-wedding get-together, or more.
Accordingly, research your social media and meet them. 
Even you can ask for their previous projects and how they work. 
It is necessary to clear the vision of your theme. 
Ask for the budget and packages. 
From catering to photography it is necessary to ask everything about the included services. 
However, these are the things you can ask your wedding planner. Compare the prices and the procedure then hire them. In that way, it will be better to know that how and why it is necessary to hire a reliable one for better wedding arrangements. 
Therefore, it will be better to research or you can ask your family and friends. They will definitely suggest you a better service provider. Therefore, wedding planner in Faridabad reduces the burden of decoration and food arrangements. From handling the guest to the dishes, from cocktail party to the DJ night they prepare all the things that will be a quiet time saver. That's why is necessary to understand that hiring a responsible planner makes things easy and quick. So, now it will be better to know what is necessary or what will be better. Enjoy your wedding day with the team of a professional planner suggested from ZoopGo.  
Wedding planner services FAQS
What are the wedding planning services?
The wedding planner service provider will be providing you with the best and quick themes for the wedding having various styles of cuisines including Mexican, Italian, Indian, Chinese etc. You will also get services of decoration, music and the venue of the entire wedding event.
Do you provide only traditional wedding planners?
It depends on the type of wedding you want for your special day. If you will demand the western kind of service providers for the western or beachside wedding then we will be providing you with this only.
Do you also provide matrimonial services?
No. We do not serve the customers for matchmaking purposes. We only provide you with multiple price quotations for the services of wedding planning.
What size of a wedding can your wedding planners manage?
It depends on the guest list of the customers. You will have to show the guest list to the wedding planners further they will be giving you what you want as per the size of the wedding venue.
What is the best time to choose your wedding planners?
We recommend that you should hire the wedding planners as soon as possible as the good service providers will not be available for you anytime on that specific date and timing. Besides, you can also think at the time of deciding the venue for the wedding or the engagement event.
What do you charge for providing the wedding planner's quotations?
We do not charge anything for providing you with the price quotations. We fetch the service providers to you without having the benefits of single pennies. So, you can enjoy our service free of cost only.
How can I hire you?
You need to just for to the official website of us and extract the toll-free number or the official email ID, just give us a call or shoot us an email for the requirement of the wedding management services. We will be fetching you the same as per the expectations.