Washing machine repair and service – Delhi
The technology bells are ringing in each and every manual work!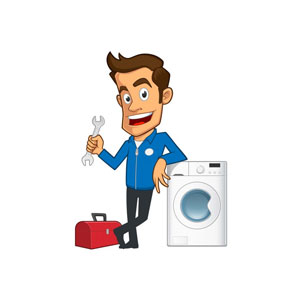 What would you do if you needed to do the same as your grandma did of washing a bucket full of clothes? Won't you get tired the most?You must not have thought of doing it in your busy schedule. But hopefully, technology biz has gifted us an amazing solution for us; The Washing Machine. The washing machine nowadays is the solution to all the clothes washing problems. Just dump your clothes and add some detergent you are done! Isn't the same scene at your place too?
But behaving harshly with your washing machine can push you into a problem that it will get damaged. Hence you need to take utmost care of the same. As it is an electronic device it is likely to get damaged soon.
Hence, we have a few tips to repair your washing machine by yourself!
Stick to the page and keep scrolling for more such hard-hitting hacks…
1. Keep the gasket clean
The gasket is counted to be the most important part of your washing machine. Hence you need to take utmost care of the same. The maximum dust and detergent residues are collected in the gasket especially in the top load washing machine. It is also always attacked by detergent spills hence we should keep it clean at regular intervals.
2. Cleaning the trays
The trays and dispensers in a washing machine are given to mix the detergent with water. Due to everyday or regular usage of trays, the cleaning process of those trays is a must. As if you don't do that it becomes the host for harmful bacteria ad germs. This will not turn out for your family members.
3. Picking the ideal detergent
Don't you find the ideal match in everything which is important then why not detergent? Sound surprising? But it is an important factor to shop for the ideal detergent for your washing machine. The reason behind the same is that if you buy a detergent that does not suit your washing machine it can prove to be too harsh for your machine's parts as well as your clothes.
4. Keep your machine covered
Many times it happens to have your washing machine on your balcony or any other dusty place. Hence it highly recommended to cover your machine with a cover or a clean cloth. There are covers available especially for your washing machine.
5. Moisture protection
Do you leave the door open for sometime after you are finished with the washing of clothes? No! You might too have the same answer. Hence, it usual for people that they do not keep the door opens after using the washing machine. Therefore you should note it down to leave the door open so that your washing machine is moisture-free. This also keeps the odor away from your washing machine.
So now you have some amazing DIY hacks to repair your washing machine from small problems. But what if your washing machine gets attacked by some major problems? At that time you need to consult the doctor of the washing machine, the one who can repair your washing machine.
To find the best doctor who can heal your washing machine the best head on to ZOOPGO where you can find the best repairers of the city.
Learn more about how ZOOPGO plays the role of your assistant to help you find the best service providers?
ZOOPGO is an e-platform to help you find high-quality service providers in varied cities. The website is filled with the best of it kinds of cleaners, caterers, photographers, painters and appliance repairers. Get acquainted with your required service providers in just a few simple steps.
(1) Plunge onto our website browse through the ocean of varied service providers and search for the one whom you are in need of.
(2) Just type washing machine repairers in the tab displayed and professional and expert quality wedding photographers all around Noida will be displayed on your screen.
(3) Select the one for whom you seem to be capable. Read the reviews provided by previous customers.
(4) Ask for a quotation and you are done!
Hiring service providers from ZOOPGO will get your work half done in a minute. You don't need to go around the whole city to find one.