Titivate your official property with skilled and professional office/shop painters!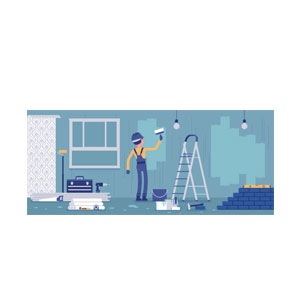 Offices and shops are progressively being designed and painted with the collaboration in mind, private work sessions, corporate meetings, and coffee dates with worthy clientele blur. 'Color'is the main target— particularly, the colored lighting, that can influenceon the productivity.Bright colors for office/shops often help individuals to spark ideas and innovations, while the soothing colors such aslight green and lighter blues assist them to relax.Innovation with paints is what a workplace needs that offers an ongoing sense of intrigue and engagement.
Everybody likes to buy work from contemporary artists and painters, with a focus on innovative and original drawings and painting techniques. Thus, we at Zoopgo offer you a platform to choose the skilled and professional painter that offers innovative and spontaneous services. You can choose the painters from Zoopgo that have wide portfolio. People love the painting services that capture the moment when an innovative idea first becomes visible. And Zoopgo has a lot of painters, artists, problem-solvers, and achievers that are known for the beautiful art in your workplace.
How to hire a professional painter from Zoopgo?
1). Visit our website www.zoopgo.com or download the Zoopgo app to hire a professional painter for your residence and office/shop painting work.
2). Select which type of painting service you want.
3). Then, select the location and the type of painting service that you want and enter the further information like your name and phone number.
4). After successfully completing the above request, you will be matched with the painters as per your requirements.
5). Check the painter's portfolio, reviews, and ratings before choosing the painter for your task.
Types of office/shop painting services offered by office/shop painters in Delhi
The office/shop space is often the primaryspot of contact to facilitate many potential customers or clientele have with your industry, thus,adding up office/shop artwork and painting is an outstandingtechnique to insertpersonality and warmth to your office/shop. Quality office/shoppainting artwork involvessuccess and taste, and will immediately make newcomerclients experiencecontented and comfortable in your industry environment.
Conference and Meeting Room Painting services
Creating your workspace striking is anenormous way to produce an inviting space where employees can be industrious. Your meeting and conference room should not suffer stark or stuffy, so consider adding some beautiful conference room with different paints and artwork to make brighter things up. At Zoopgo, we have put together a bunch of professional and skilled painters in one platform that offers elegant and stylish painting techniques that are the ideal purpose for office/shop setting. Thus, create an excitingimpression for everybody at work by selecting popular and professionalpaintersfrom Zoopgo.
Modern office painting services
There are many types of hand-painted painting services, oil painting services, and many others that are referred to as modern art to matchwith the approach of up-to-date office/shop space.Zoppgois the powerful platform that offers skilled painters who perform a wide selection of modern art that works best with your office décor and work culture.
Popular office painting services
The partners and painting service providers at Zoopgo, offers a wide selection of painting services such as oil painting service, pixel-perfect painting service, metal painting services, wood painting services, wall texture painting services, wall stencils painting servicesand many others to boost your office/shop spaces while offering your employees with theenhanced feeling that they work in an attractive and special place.
Traditional office painting services
There are different types of traditional office painting services such aswooden polish service, texture design service,wall textured painting, wood and metal paints, and many others that elevate the ambiance of your business.Add more value to traditional office décor by investing in our affordably priced art and painting services offered by professional painters. Zoopgo is the best platform to choose professional painters who capture each brushstroke of the creative to expressaffluenttexture and colors.