Make Your Car Shine with Best Car Rubbing and Polishing Services in Delhi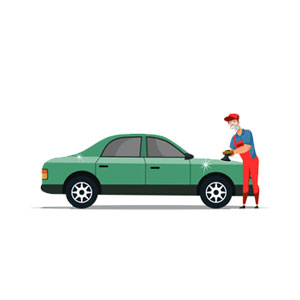 Normal washing and cleaning of your car may not add years to your vehicle. If the surfaces of your car are not safeguarded in the right manner, then the dirt, scratches, or dents may depreciate the value of your car, which you may not want, isn't it? Proper deep cleaning of the car interior and exterior is extremely important to keep it in the best new showroom-like shine condition.
Nowadays, everything from food to groceries is available on the doorstep instantly, then why not the car rubbing and polishing services in Delhi. Get rid of the hassle of standing in the long queue just to get your vehicle polished. Zoopgo is here to get you connected with the verified rubbing and polishing service providers near your region in few simpler steps, thereby minimizing the wastage of precious time and money.
How to Hire Top Providers of Car Polishing in Delhi with Zoopgo
Select the best car polishing services you require.
Select the convenient date and location where you want to get your car rubbed and polished.
Get the best quote from the service providers and hire the right one according to your budget.
Why Choose Zoopgo for Hiring Providers of Car Rubbing in Delhi?
1) Convenience
We understand that you are living a fast lifestyle; hence we are here to make your life comfortable when it comes to hiring the Delhi car rubbing and polishing service providers near your region. The service will be provided right at your doorstep, so there is no need to worry about the traffic. Their dedication to customer service is simply unmatched.
2) Transparency
Your car will be rubbed and polished using quality materials. Also, there will be total transparency in the servicing cost and no hidden charges. The providers of the best car polishing services in Delhi provide competitive quotes and there are no hidden charges. The service providers associated with us are verified and have built their business on trust.
3) Quality
With Zoopgo, you can be assured of getting quality services from our list of the verified providers of car rubbing and polishing services in Delhi. Providing high-quality services and optimal customer satisfaction is the main motive of the service providers. The service providers use genuine materials for the long-lasting protection of your car. Moreover, you get expert technicians that understand your vehicle well and use quality polishing materials for long-lasting protection.          
4) Reliable
When you hire the car polishing service providers with us, then one thing is for sure that your prized possession i.e. your car will be in the safe hands. The service providers care for your car and ensure you have a hassle-free experience. Some of the providers of car rubbing in Delhi services also provide the service warranty. Hence, you can always count upon them for providing high-quality car rubbing and polishing services within your budget.
Frequently Asked Questions Related Car Cleaning Services in Delhi
Is there any Difference between Car Polishing and Car Waxing?
Whenever we approach a car polishing service provider, we fail to understand the basic work of the dealer in performing car polishing. The car polishing is performed right after car washing. The aim of car polishing is to remove the imperfection on your car such as polishing services can exterminate scratches on your car. Therefore, folks always want to approach the services of Car Polishing in Delhi. The car waxing process is performed after polishing and it aims to prevent sealing or stain on the car. You must assure the services of verified service providers of car polishing in Delhi.
What are the Tips for Perfect Car Polishing in Delhi?
You should first wash your car and before washing, you should dust the car with a clean cloth.
Never use metal polishing on plastic surfaces otherwise; it will lead to complications in the car polishing process.
Ensure to read the manufacturer's guidelines before polishing and rubbing your car.
Always ensure the support of a reliable service provider when you want to pick the support of car polishing services.
How ZoopGo Helps You to Connect with the Service Providers of Car Rubbing in Delhi?
To make your car look appealing, you can choose the services of Car Rubbing in Delhi via the top online portals such as ZoopGo. We will help you to connect with reliable and verified service providers. You can also help yourself to connect with affordable dealers by saving your overall cost for car rubbing up to 25%. Going ahead, ZoopGo helps you compare the reviews and ratings of the top car rubbing services via their dashboard services.
What are the Charges for Car Polishing near Me?
Car Polishing Charges in Delhi range from 3000 to 5000 INR for luxury cars, approx 2500-4000 for normal range cars.