Hire Birthday Party Planners in Chennai through ZoopGo to Cherish Memorable Moments!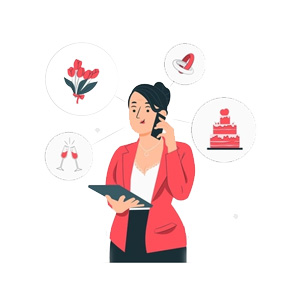 Whether you want to celebrate your birthday or host a party for your child and want your invitees to remember it for years to come and sing Aww Tera Happy Birthday, consider bringing birthday party planners in Chennai on board. By taking your concept and making it a reality, a professional event planning artist can make your celebration a great hit among your guests and enable you to celebrate your favorite day just as you had envisioned. If you're having trouble finding the perfect planner, think about using our platform to discover the best one. 
Why US
At ZoopGo, we are one of the leading web aggregation platforms with 2000+ verified and reliable event service providers in Chennai. We have sincerely been connecting customers with their ideal match for the last ten years. We have served more than 96,000 customers thus far and intend to connect you with your perfect partner. For the past ten years, ZoopGo has been connecting clients with their perfect matches. 
Book birthday planners in Chennai with us to save up to 25% 
Birthday party planners' charges in Chennai range between ?5000 and ?25,000 or more, depending on several factors, such as the type and size of your event, venue, theme, decor, food, etc. You can save up to 25% on bookings and get exciting birthday event packages by booking them through us. All you have to do is share your requirements along with your contact details, and our representatives will get in touch with you then and there with the best first four quotes to compare and gain leverage in negotiation. 
Features that distinguish us
(1) 100% Verified event planners 
(2) Around-the-clock customer assistant 
(3) Prices that are affordable and fit your budget
(4) Quick quotations for price & service comparison 
(5) Personalized Dashboard to get actionable insights 
(6) Last Minute Booking facility 
Put a smile on your loved one's face with a surprise birthday party 
Everyone likes surprises irrespective of their age. So, bring a smile to your dear ones' faces and joy in their heart by hiring surprise birthday party planners in Chennai. Just share your ideas with them. They will go above and beyond to plan a creative and excellent birthday. Moreover, you can book the best kids' birthday party planners in Chennai through us. 
Through an unforgettable 1st birthday party of your child with us 
The first birthday is special. It is a milestone for both parents and the child. So, make it unique and memorable with us by hiring the best birthday party planners. We have excellent and creative 1st birthday party planners in Chennai in our network. They will go above and beyond to add beautiful memories to your and your baby's lives.
Happy to Help!
Call 1800-12312-9655 (Toll-free) or share your requirements by filling out the online quotation form on our website to discover and book professional birthday party planners near me. Additionally, you may email us at [email protected]