The best way to find Bridal Makeup Artists in Bangalore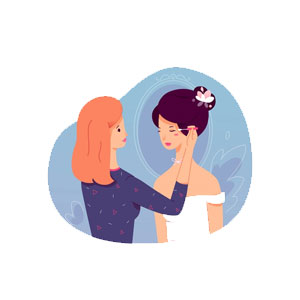 Bangalore as a city has the image of being a hi-tech and ultra-modern city of the country. However, when it comes to weddings everyone here sticks to tradition. Due to the large percentage of the population falling in the young bracket, weddings are more commonplace than ever. The Bridal Makeup Artists in Bangalore are hence regularly in demand. This is a special day for the couple getting married and hence the bridal makeup will have to be perfect. The service providers here will always ask what the bride wants to look like and then work accordingly. 
Many professional Lakme makeup artists in Bangalore  provide wedding makeup services.
The makeup companies too know the importance of the day. There is the lakme bridal package which lists the right makeup chemicals and tools for brides from different parts of the country. The charges of these range from a few thousand to tens of thousands, depending on your choices. These items include lakme products for facial makeup, pedicure and manicure. There are salons out there who are promoting themselves as exclusive users of lakme product for all types of makeup.
There are some artists in the city who work with one brand of makeup items rather than all. Mostly they will allow you to choose their own brand, however there are always ladies who are loyal to one brand. For instance, the lakme bridal makeup artist in Bangalore will only work with lakme products. They know the impact of every product of this brand. Whether you are looking for makeup for eye lashes, eyebrows or for facial skins they know which products will be the best.
There are salon chains with salons all across the Bangalore
Most families will not consider the amount to be a restriction when they hire the makeup artist for the bride. However if two salons are offering similar services at different rates, people may tend to hire the one charging lower amounts. There are often requirements for these professionals to come and serve at the premises of the bride. There are some popular salons like the naturals bridal makeup Bangalore, which offer all kinds of packages ranging from Rs 6,000 to Rs. 60,000. You can see their portfolio and select the look that you would like on this all-important day. 
You will get an excellent hair stylist in Bangalore to make your day memorable
Apart from facial makeup, hairstyling is the other important task for the day as far as brides are concerned. If you are looking for a bridal hair stylist near me, you will find them easily online. Makeup and hairstyling go hand in hand in salons across the country. Often one artist will be expert with both or you will have a makeup expert and a hairstyling expert who will assist you with preparations for the day. It will also be cheaper to call the makeup artists near me, for assistance at home than those with salons far away.
Hire Muslim Bridal Makeup Artists in Bangalore  
Bangalore is a melting pot of cultures with people of all religious backgrounds having settled here. When it comes to weddings, a muslim bridal makeup artist will always be preferred for the occasion over those who assist all types of brides. This label itself will attract lots of business from the Muslim community. The makeup is different and so is the jewelry and the dresses, which these professionals have a good knowledge of. They have perfected their art over the years and they will do exactly what the bride orders.
We will help you find hair stylists in Bangalore within your vicinity
All ladies look after their hair all lifelong. It enhances how they look and gives everyone an idea of their personality. Most of them will be looking for a hair stylist for a wedding near me in Bangalore for their special day. Most makeup artists will assist ladies for any occasion, however the weddings are always different, especially if they are working with the bride. These professionals offer packages for complete bridal makeup including hairstyling. If you have liked a look that your friends had on her wedding or if you have liked something from a magazine, just show the photos to these professionals and they will style your hair exactly this way.
Obtain great prices with airbrush artists in Bangalore
It's not just the chemicals that upgrade every year, there are new makeup tools introduced in the market too. The airbrush makeup in Bangalore is quite popular particularly as it lasts long. This tool has been with the best makeup artists in the country for decades. The charges for this makeup start from Rs. 10,000. Most makeup artists offer separate packages for airbrush makeup. It is something that you cannot do on your own and it's best to hire a professional who knows how to use this tool perfectly. 
If you are looking for a Bridal Makeup Artist anywhere in the country, we at ZoopGo will be able to assist. We will provide 4 best quotes from makeup artists in Bangalore, on your mobile, without any charges. You will get these once you complete our small requirements form. If you feel the need to communicate verbally with our consultants, they are available at the Toll-free number 1800-12312-9655.