Let's Capture the Support of the Best Makeup Artists in Bangalore via ZoopGo the Best Online Portal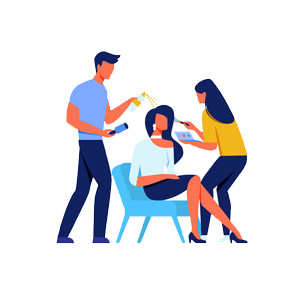 Girls and makeup go hand in hand. They love to attend parties and flaunt their makeup to impress their boyfriends, their friends, and to feel great themselves. Applying makeup yourself on parties may sometimes lead to imperfect makeup and can spoil parties. On once in a lifetime occasions in our lives like a wedding ceremony we love to hire the services of Makeup Artists in Bangalore. Because people find immense opportunities of earning money in Silicon Valley, they never hesitate paying for hiring quality makeup artist services. What they want in return is to hire quality makeup artists who can make their nuptial ceremony a great hit by giving the brides and grooms a perfect look.
What Qualities You Must Consider When Hiring for Bridal Makeup Artists Services?
Hiring the services of bridal makeup artists is extremely important and therefore, we should keep in mind the following qualities while considering bridal makeup artists to make our looks perfect.
Artistic Skills: Ask for a demo makeup session or request the makeup artist to show the portfolio of the makeup artists. It will help you a lot to judge the artistic skills of the makeup artists to avoid any kind of fuss on your big day.


Consider Flexibility: You should choose the services of those makeup artists only who are quite flexible to match their time as per your schedule. Remember no time crisis should spoil your event, otherwise, you will miss the perfection in your looks on the final day.


Creativity: Consider the creativity of the makeup artist. The makeup artist must be creative enough to judge what will work the best as per the tone of your skin.
Bangalore Makeup Artist Charges
| | |
| --- | --- |
| Makeup Style | Cost/Package |
| Basic Bridal Makeup |  Rs.9,999  to Rs.15,999 |
| HD Bridal Makeup | Rs.11,999 to Rs 18,999 |
| Airbrush Bridal Makeup | Rs.11,999 to Rs.29,999 |
| Guest Makeup | Rs.1500 to  Rs. 2,999 |
| Engagement Makeup | Rs. 3,499 to Rs. 2,999 |
| Basic Party Makeup | Rs. 1,499 to Rs. 2,499 |
| HD Party Makeup | Rs.2,499 to Rs. 5,999 |
| Airbrush Party Makeup | Rs.3,999 to Rs. 7,999 |
Level of Patience: Various professionals who invest in Makeup Artist Course in Bangalore
Once you type this address on the Google search bar, you will reach the home page where you will see the tab of the makeup artists.
Now, quickly select what kind of makeup artists services you want?
You can select from the diverse services like wedding, portfolio shoot, party, pre-wedding shoot, and engagement.
What kind of services do you want to look for? Only makeup, makeup and hairstyling, or only hairstyling.
Now, fill in the venue where you require these services? Select among home, saloon, or makeup artist home, or else, any other external venue.
Fill in the date and location for hiring the services of Professional Makeup Artists in Bangalore.
Can we compare the reviews and ratings of different service providers when hiring the services of Makeup artists via ZoopGo?
Yes, by accessing the dashboard facility, we can compare the services of reviews and ratings via ZoopGo.Bangalore develops the virtue of patience to match the demand of their profession. You must also give preference to hiring the services of makeup artists who are quite skilled in their work and have an amazing level of patience and entertain the client's in a perfect way.
What are the Best Platforms to Pick the Services of the Professional Makeup Artists in Bangalore?
You can consider asking for recommendations from your friends, family, and other acquaintances. Consult those friends only who have recently tied the nuptial bond with them.
If you want to pick the services of the best professional makeup artist, you can scout the internet for the best results.
People opt for the services of the Top 10 Makeup Artists in Bangalore via the top online portals like ZoopGo who helps us connect with the best and verified makeup artists.
The finest Freelance Makeup Artist in Bangalore are at your service
Makeup is something every woman enjoys and some of them spend some time on it every day as they believe it makes them look better and more presentable. So, when they are invited to a party or when they are organizing one, they will always seek professional help. Yes, there are local salons that you visit once in a while to get your eyebrows threaded, but nowadays you have another option: Freelance Makeup Artist in Bangalore. These professionals do not have a salon of their own and they will come to your premises to assist you. What they do have is an online presence, where they describe what they are capable of. Their charges are comparatively lower than the salon owners, though they perform as well as them. 
They will come prepared to help you look gorgeous
These experts are ready to travel to any part of the city to help you enhance your looks. If you are getting married you will be looking for Makeup services at home in Bangalore. The reason for this is that most brides don't have enough time to travel around and they will be more relaxed at home than outside on this all-important day. These service providers have good knowledge of cosmetic products of the different brands available in the market. They always take everything required to give you excellent looks with them. They don't just carry the chemicals but their tools of the trade too. They will prefer if you sit in front of a large mirror as they work on you, so you can see what they are doing. 
If you are looking for the best, you are at the right place
There are times when nothing but the best will do for these ladies. They will be searching for the top 10 makeup artists in Bangalore and for this, an online search will be ideal. The best service providers in any business today have an online presence that allows customers to find out who they are and what they do. They usually have portfolios online too so you can see the work they have done in the past. They are rated highly because they have assisted numerous ladies successfully in the past. Success here means receiving compliments from others and becoming the center of attention. 
How You Can Connect with ZoopGo to Pick the Services of the Party Makeup Artists in Bangalore?
You can hire the services of the Best Party Makeup Artists in Bangalore via calling our toll-free number 1800-12312-9655, or else, you can also shoot an email to us at [email protected].