Hire Top Wedding Videographers in Ahmedabad from ZoopGo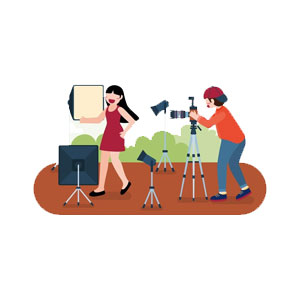 A wedding is not only about two people getting married, it is also about making a worthwhile memory that you can cherish for years. When you look back and see those videos and photos, you can still feel all those memories. 
Indian weddings are full of rituals and every ritual has its own value. Capturing those rituals in video format is an art and only experienced and skilled wedding videographers in Ahmedabad can do that. 
Weddings are full of chaos and those who organize the wedding miss most of the events of the wedding. Yeahhh…! you have to do a lot, you have to greet the guests, take care of gifts, take care of wedding preparations and more. No matter how professional an event planner is, you still have to keep an eye out and we completely understand that. 
Therefore, it becomes necessary to capture the wedding so that you don't miss a single event and can see those moments that you missed earlier. 
How can I choose the best videographer in Ahmedabad for my wedding? 
Choosing the best videographer is a little time taking but it's worth it. By using the following methods, you can choose the best near-me wedding cinematographers in Ahmedabad. 
Outline your Requirements:

The first thing you have to do is outline your requirements for the wedding videographers. You have to write in-depth about the types of videographers. Do you need cinematographers? or Are you looking for retro-style videography?

For your little help, start thinking of any friend whose wedding film you just love. You can take a hint from it about your taste and style and make a detail out of it.
Research and Recommendations:  After knowing your taste and requirements, all you have to do is research the best videographers as per your budget. You can also get recommendations from your friends or relatives whose wedding films you like the most. To avoid calls on hundreds of phones, you can also choose a wedding videographer from ZoopGo within your budget.
Portfolio and Previous Work: After shortlisting top videographers, another thing you have to do is check their portfolios and their previous work. Also, check whether their old clients are satisfied with their work or not. Listen to them well, let them know about your expectations. Feel connected with them so that you can communicate properly about the wedding videography charges in Ahmedabad. 
By following the above steps, you will definitely be able to find the best wedding videographers. 
What are the advantages of hiring wedding videographers from ZoopGo? 

Choosing the right platform for the service will not only reduce the pain of preparation but also provide relief so that you can enjoy the best and most precious moments of your life. ZoopGo is the platform where you will get the professional expertise of a professional and budget-friendly service. With all this, you will get our 24-hour customer support. In case of questions, you can reach us through the toll-free number 1800-12312-9655.