Hire Best Reliable and Professional Photographers in Ahmedabad With ZoopGo Instantly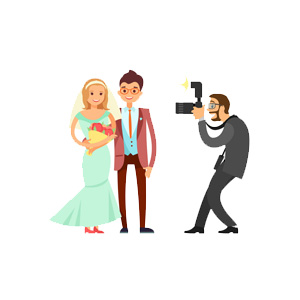 Any party or event is less fun if its outstanding moments are not documented. When you make a party plan, you think about a lot of different aspects, including catering, decorations, music, and photography. Are you unsure of the best places to look for and employ reputable photographers in Ahmedabad? Well, Zoopgo is here to save the day because it has a huge database of verified photographers who can capture your special moments in the highest quality photos.
With Zoopgo, Put an End to Your Search for the Best Photographers in Ahmedabad
You've found the ideal page if you're looking for professional birthday, wedding, pre-wedding, fashion, or pregnancy photographers in Ahmedabad. Using our website to hire photography services in Ahmedabad is a hassle-free process. All you need to do is carry out the obvious actions listed below:
Browse the Zoopgo website or mobile app to find the Ahmedabad photography service providers.
Fill out a brief form by responding to a few questions that will enable us to better understand your photography-related needs.
Once you have completed the form, you will be immediately linked with the trustworthy photographers in Ahmedabad.
Depending on your needs for photography-related services, you will receive quotes.
Compare the quotes and choose the finest option that best suits your requirements and price range.
A KEY POINT TO REMEMBER: You can also check out the websites of the photographers to assess the quality of their work before making a choice.
What Different Services Do Best Ahmedabad Photographers Provide?
Photography services for weddings
Photography services for a birthday celebration
Photography services for pre-wedding photographs
Photography services for fashion photography
Photography services for maternity photographs
Photography services for product photography
And many other things
Besides these services, if you want any other photography services, then you must make it a point to discuss with the service provider for the stress free experience.
Why Use Zoopgo to Find Photographers in Ahmedabad?
The advantages listed below will help you make the best choice and hire top 10 photographers in Ahmedabad hassle free: 
Verified Photographers: One of the main advantages of using Zoopgo to find photography services in Ahmedabad is that you can only work with professionals who have passed a rigorous background check and approval process.
Instant Quotations: Getting in touch with Ahmedabad photographers and obtaining quotes does not require waiting for hours. You receive the quick photographic costs from the service providers as soon as you complete out the form.
Budget: At Zoopgo, we are completely aware that our clients demand high-quality services at the best photography charges in Ahmedabad. Given this, the maternity and wedding photographers in Ahmedabad that are a part of our network provide the best and most personalized services in accordance with the needs and budgetary capacities of the clients.
Therefore, you can trust Zoopgo to link you with the best photographers in your price range if you're looking for RELIABLE, and PROFESSIONAL photographers in Ahmedabad. We are one of the top online platforms for finding and booking photographers who properly suit your demands.
Why Trust ZoopGo For Hiring Photographers in Ahmedabad
Are you looking for professional photographers in Ahmedabad to capture your special moments? Look no further than ZoopGo! Hiring photographers from ZoopGo can offer you a range of benefits and ensure that your precious memories are beautifully preserved. Here are some reasons why choosing photographers from ZoopGo in Ahmedabad is a smart choice:
Experienced and Skilled Photographers: ZoopGo has a network of experienced and skilled photographers in Ahmedabad who are experts in their craft. They have the technical knowledge, creativity, and expertise to capture your moments in the most captivating and unique way. Whether it's a wedding, a corporate event, or a personal photoshoot, they know how to bring out the best in every frame.
Diverse Photography Services: The offers a wide range of photography services to cater to various needs like the birthday, corporate, anniversary, and wedding photography in Ahmedabad or any other type of photography, ZoopGo has photographers who specialize in each category. This ensures that you can find the perfect photographer to meet your specific requirements.
High-Quality Output: When you hire photographers from ZoopGo, you can expect high-quality output. These professionals use state-of-the-art equipment, lighting techniques, and editing skills to deliver stunning photographs that exceed your expectations. They pay attention to detail, ensuring that every aspect of the composition is flawless, resulting in images that are visually appealing and of superior quality.
Flexible Packages and Competitive Pricing: The photographer's charges in Ahmedabad cater to different budgets and preferences. Whether you need a comprehensive photography package or a customized one, they have options to suit your needs. Additionally, the service providers ensure that you receive excellent value for your money without compromising on quality.
Hiring photographers in Ahmedabad from ZoopGo is a wise decision for capturing your special moments. With their experienced and skilled photographers, the service providers ensure that your memories are beautifully preserved and cherished for a lifetime.