Find The Top Vadodara Photographers for Capturing Every Occasion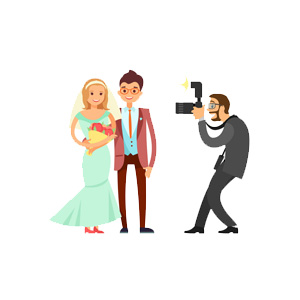 If you're looking for talented Vadodara photographers to capture your special moments or create stunning visual content, you've come to the right place. Vadodara, also known as Baroda, is a city rich in culture and history, and it provides a beautiful backdrop for photography of all kinds. Whether you need wedding photography, portrait sessions, event coverage, or commercial photography, Vadodara provides a pool of skilled photographers ready to turn your vision into reality.
Why Choose Vadodara Photographers?
Photographers in Vadodara are known for their creativity, professionalism, and dedication to their craft. 
(1) Local Expertise: Photographers there have an intimate knowledge of the city's best locations for photoshoots. Whether you prefer the historic charm of the old city, greenery of Sayaji Garden, or the modern urban settings, they know where to capture the perfect shots.
(2) Diverse Styles: Best photographers in Vadodara cater to a wide range of photography styles. Whether you want traditional, candid, or contemporary photography.
(3) Affordability: Photography services in Vadodara often come at competitive rates compared to larger metropolitan areas. You can get high-quality photography without breaking the bank.
(4) Professionalism: Vadodara photographers are committed to delivering exceptional service. They are punctual, reliable, and dedicated to making your experience enjoyable .
(5) Equipment and Technology: Top photographers in Vadodara invest in the latest photography equipment and stay updated with industry trends and technology to ensure your photos are of the highest quality.
Types of Services Offered By Professional Photographers in Vadodara
(a) Wedding Photography: Whether it's a traditional Indian wedding or a modern one, they will document everything. You can easily find the best wedding photographers in Vadodara through research.
(b) Portrait Photography: Whether you're looking for family portraits, senior portraits, or professional headshots, Vadodara photographers can create stunning images.
(c) Event Photography: From corporate events and conferences to cultural festivals and parties, event photographers are experienced in covering all types of events.
(d) Product Photography: If you run a business in Vadodara, professional product photography is crucial for your online presence. They can showcase your products in the best light.
(e) Real Estate Photography: Vadodara's real estate market is thriving, and professional real estate photographers can help you sell or rent properties.
How to Find the Right Vadodara Photographer
Research: Start by researching "Vadodara top photographers near me" online. Look at their portfolios, read reviews, and check their websites or social media profiles to get a sense of their style and expertise.
Budget: Determine your budget for photography services and find a photographer whose rates align with your financial plan.
Contracts and Agreements: Once you've chosen a Vadodara photographer, make sure to sign a clear and comprehensive contract that outlines the scope of work, pricing, and any additional services.
How ZoopGo fasten the process of Hiring Vadodara Photographers 
You can hire professional photographers in Vadodara for any event from one platform. You just have to open the ZoopGo website and click on the state/city, type of event (Wedding, maternity, product, etc.) and ZoopGo will find the best photographers for you. You will get 4 quotations for free.
Why You Should Trust ZoopGo to hire the Best Photographers in Vadodara?
ZoopGo always provides verified and top photographers in Vadodara, who are the professionals in the field of photography in Vadodara for every type of occasion.
Whether you're celebrating a special occasion, promoting your business, or simply looking to capture the beauty of Vadodara, you'll find skilled photographers in this vibrant city who can turn your ideas into stunning visual realities.