Hire professional wall painters in Pune through ZoopGo & achieve a perfect finish!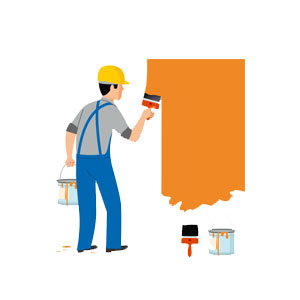 A blank wall is like a limitless canvas, waiting to be smeared with sheer hues, love and creativity. Indeed, walls are magical components in a design and can add a whole new dimension and grace to a space if painted beautifully. To make your home speak for you, you must hire wall painters in Pune through ZoopGo and create a sole spectacle in your space. We, at ZoopGo, with 10+ years of experience, 1500+ service providers, and 45000+ happy customers, strives to connect you with the top-notch wall painting services in Pune and push the aesthetic of your home. 
Five Reasons you should invest in wall painting services in Pune
You can reap myriad benefits by hiring a professional wall painter for your home's exterior or interior paint. Here are five important ones: 
Structural stability - The slightestdefect within the home can affect your home significantly. Professional painters in Pune can detect the issue and repair the structural damage before the painting process and protect your abode against water and moisture. 
Familiarity with the new trend -Colours speak louder than words, and professional wall painters in Pune understand just that. They keep up with industry trends to stay relevant and push the aesthetics of your home with new colours and patterns. Moreover, a top-notch painter can offer the best recommendations and advice on suitable colour schemes. 
Safety -Painting professionals invest in training. They have the know-how and rich experience in this field. Plus, they bring safety equipment, tools, and other necessary accessories to get the job done in the best and safest manner.  
Timely completion -Wall painting contractors in Pune has a team of professionals, who with their services, ascertain your project get done within a set timeline so that you can return to your usual routine. 
Reduce Stress -Painting demands time, planning, and attention. It can be incredibly stressful if you choose the DIY route. Professional painters with their top-notch services ensure you get the best possible results. 
Four Reasons you should hire wall painting services in Pune through us 
Quality & Guaranteed services -Service providers enlisted on our platform are verified and genuine. To check their authenticity, we verify their credentials through their KYC documents, such as certificate of incorporation, Aadhar Card, PAN Card to ascertain you get the best services. 
Quick quotes -You can get real-time quotations from the top four wallpainting service providers in just a few clicks through our platform. To get free quotes, you need to follow a few steps and list your requirements with us. Our experts will check your requirements and provide you with the best services in the least amount of time. 
Personalized dashboard - The feature enables you to check reviews of service providers and make the right call. 
24/7 expert support - Our customer care support team provide you with 24/7 assistant through voice and non-voice process. 
For any further queries, you can call us on our toll-free number - 1800-12312-9655.