Use ZoopGo to Unearth Prominent Photographers in Pune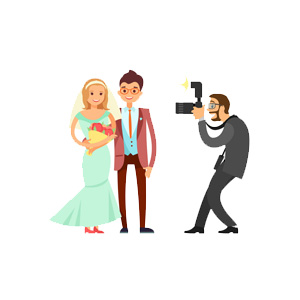 Photography is one of the productive and creative industries and it is quite impossible to find the best and reliable photographer to capture your moments and make your special event memorable. We at ZoopGo, give you a chance to meet the best-reputed photography experts from a wide range of wedding photographers in Pune. 
We come up with a list of detailed information about all the famous wedding planner service providers at your location. Our suggested photographers are verified and well-experienced in their field of expertise.  
How Does ZoopGo Find Skilled Photographers for you easily? 
When you contact our team of professionals, we make a list of Wedding photographers in Pune, share all the details with you and allow you to compare their services and Budget. 
We will directly contact the local wedding experts and ask them to be in touch with you within the shortest possible time. We will get back to you and ask about your issues and queries. 
Our spectacular experts will keep in touch with you until you will meet the right wedding professionals. After finding one for you, we will happy to share all the details with you. 
It is time to share your requirements with your photography experts. If still, you face any doubt or false statements, you direct can connect to as we will take strict against the particular service providers.  
How do Freelance Photographers in Pune at ZoopGo the top choice for an economical photo shoot? 
A photographer is all that we need to capture the moments and bring them to life. Hiring a professional photographer can be expensive and not everyone can afford it, but it doesn't mean you don't have the right to have a great photoshoot. However, freelance photographers in Pune come to the rescue for you to achieve a jaw-dropping photoshoot. At ZoopGo, you will find diverse freelancers at reasonable prices. Also, they will aid you with their photo editing skills to retouch the photos.
What are the benefits of hiring freelance photographers from ZoopGo near me?
Freelancers also known as self-employed photographers are more beneficial than studio photographers as they fulfil their client's needs and expectations in no time. Here are some advantages of freelance photographers;
They have a particular niche such as weddings, corporate events, fashion photography, casual events, etc
Less pricey as compared to studio photographers.
They incorporate high-quality work thus giving you amazing photos of your photoshoot.
Flexible working hours and expertise services.
 High reachability across the world. They have a great network worldwide.
They prioritize output in the form of quality high display photos.
Amazing turnaround time. Usually, studio photographers delay this process as opposed to freelance photographers. 
They are highly professional as they are representing themselves and not any other company or studio. 
Hire freelance photographers in Pune to magnify the photos only from ZoopGo
Pune, the second best city to live in India with pleasant weather has multifariously skilled photographers in every part of the city. Just do ZoopGo and hire freelance photographers in Pune near your location. Analyse their portfolio and experience in this field then appoint the qualified one.
How it is easy to appoint photography services from ZoopGo?
We at ZoopGo have made it a facile and smooth process to book photographers of your choice. Also, we connect you with verified services to meet your desire of having an excellent photo-op. 
Select the niche of the photographer you require be it for weddings, corporate parties, pre-wedding shoots, product photography, and so on.
Acknowledge your event details to them so that they can visit you.
Get free quotations from several photographers. Choose and hire them according to your needs. 
Always bear in mind that you should never select any random one for your special events. A good photographer has all the superpowers to make it or break it. Hire from reputed sources that introduce you to the best freelance photographers nationwide.
Hire Best Photographers in Pune From ZoopGo to Relive Special Moments
Even after many years, it's not always possible to recall every little detail of a wedding, graduation, new baby's arrival, birthday party, or other significant occasion in your life. Because of this, a photographer's role is crucial for capturing these priceless moments that people will always love. A picture can allow you to travel back in time and relive the moment the memory was created. We at ZoopGo have a comprehensive list of the verified photographers in Pune who are experienced in capturing all the priceless moments of your event. We want to make you smile even years from now.
Once you hire the photography service providers from ZoopGo, then you will be pleased with their exceptional work and dedication. We have a group of professionally trained photographers who with their creativity, add to the specialness of your gala moments. The photographers take great satisfaction in always putting the needs of the client first and offer them a stress-free experience.
Type of Photographers Available at ZoopGo in Pune
Wedding Photographer: Relive the events of your wedding celebrations through the beautiful pictures so you can revisit them whenever you like to recollect them. Wedding photography is the delicate art of taking images of your wedding and its events. The best events of your life will be captured in images by professional photographers in Pune.
Maternity Photographer: One of the happiest times in a woman's life is during her pregnancy, therefore it's important to preserve those memories through photos. The beautiful thing about maternity photography is that you can show the photos to your kids, who will undoubtedly be delighted to see their mommy pregnant.
Birthday Party Photographer: The birthday photographers work extra hard on your special day to capture the moments that will make it memorable. You are always welcome to discuss your needs with them. 
Product Catalog Photographer: The professional product catalog photographers in Pune offer services to corporate clients in addition to delivering great photos for the events. Covering the aspects of the services and products offered by the clients is one of these services.
Pre Wedding Photographer: Spend some beautiful moments during the pre-wedding photography if you are looking for reasons to feel closer to your sweetheart. Pre-wedding photography, as the name implies, is the art of capturing moments of a couple before their wedding. 
What are the Photography Charges in Pune
This is most likely one of the first thoughts that come to you. The type of services you need will determine the answer to this inquiry. When choosing the quote, the following aspects are taken into account:
Type of photography service required
Number of photographers needed
Number of hours/days
Size and quality of the album
Photography duration
ZoopGo - Your Best Partner for Hiring Professional Pune Photographers for Unforgettable Memories
Our clientele have expressed appreciation for the work of photographers in Pune associated with us. They are driven people that take great satisfaction in turning your memories into works of art. Get in touch with them if you would like to go through the recommendations and testimonials from our valued customers. 
ZoopGo: Download the application to meet various home service, experts 
Apart from wedding experts and fashion photographers in Pune, we also deal with other home service experts including home cleaning, car cleaning, pest control, renovation, and AC repair facilities. Install our application and find each home service at your fingertips. Meet the leading professionals in a few clicks. 
Our program is simple and easy to use. Download it from Google play and meet the leading photographers at your doorstep. With the help of our app, you also make a voice call anytime to grab the best possible solution regarding all the home services. 
Every Female Photographer in Pune has created a niche of their own 
There is no shortage of demand for professional photographers in Pune. There are some female clients who look for a Female Photographer in Pune, when they want to hire someone for photography to give a feminine touch. With the increasing requirements, more women are feeling encouraged to join the industry. Most of them were enthusiastic users of common cameras and those with special skills, like good eyes and excellent hand eye coordination bought cameras more suited to their tastes. They all build a portfolio over a period of time which is their gateway to public photography, that they will be paid for.
These photographers deliver with passion and enthusiasm
Women have always been ahead of men when it comes to education, but the reverse is true for professions as women have to manage their families too. There are top Female Photographer in Pune that work together with their husbands and venture out alone according to the request of their customers. They are requested for portfolio photography by female models as they feel more comfortable with them, though they may have to work with a lot of men when they become popular. The best among these experts are good at calculating the right time to click and capture the moment that everybody will like to see and remember. 
The best among these are available for all occasions
Weddings are the event where you will usually have two sets of photographers, one hired by the bride's family while the other is hired by the groom's family. There are instances when the families agree to hire a commercial photographer. As for the bride's choice, they often look for the best Female Photographer in Pune. These occasions happen over long hours and only strong persons capable of holding cameras for long will be able to do the job properly. However, this has not discouraged any females with a number of them willing to assist you with these occasions. They are ready and willing to work at anniversaries, birthdays, festival parties and corporate events.
These photographers will deliver according to your expectations
These professionals also do not hesitate to travel long distances for destination weddings, fashion photoshoots and photoshoots for magazines. These Photographer in Pune are on the hunt for unique and best backgrounds that will allow them to do something different than other experts in their field. They are good at candid and portrait photography i.e. they are on the lookout for memorable moments and they know how to create moments that will be enjoyed by their clients. 
If you are on the lookout for a Female Photographer, come to ZoopGo to find the best ones. You can call us at 1800-12312-9655 and we will find you photographers who will deliver according to your expectations.
Get in touch with the Reliable Assistance and cost-effective solution: 
We are available all day and night to guide our lovely customers. We do understand the importance of special days such as wedding days. We will happy if you are happy and we will be sad if you are sad. So whenever you feel any kind of issue, make a smarter mover and contact our problem solvers by dialing a toll-free number. So get ready to experience a top-class of service abilities.   
One of Our Happy customers: 
This is the feedback shared by one of our customer's overcall: 
Have you enjoyed the service? 
Answer:Yeah, the experience was great while using your application. 
Which was the best part of our service abilities? 
Your customer care service was awesome. They helped me many times regarding my various issues. 
How was the event, how we suggest Photographer?
The entire wedding experts team suggest was ZoopGo is amazing. They are professionals with a really good sense of humor. 
So are you fully satisfied with our services? 
Yeah, I am. Thank you for making my day special. 
Would you like to contact us again in the future? 
Yes for sure, even I have already suggested your application to 2 of my good friends. They also were presented at the event and were impressed with the services.