Use ZoopGo to Unearth Prominent Photographers in Pune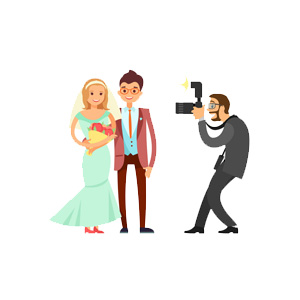 Photography is one of the productive and creative industries and it is quite impossible to find the best and reliable photographer to capture your moments and make your special event memorable. We at ZoopGo, give you a chance to meet the best-reputed photography experts from a wide range of wedding photographers in Pune. 
We come up with a list of detailed information about all the famous wedding planner service providers at your location. Our suggested photographers are verified and well-experienced in their field of expertise.  
How Does ZoopGo Find Skilled Photographers for you easily? 
When you contact our team of professionals, we make a list of Wedding photographers in Pune, share all the details with you and allow you to compare their services and Budget. 
We will directly contact the local wedding experts and ask them to be in touch with you within the shortest possible time. We will get back to you and ask about your issues and queries. 
Our spectacular experts will keep in touch with you until you will meet the right wedding professionals. After finding one for you, we will happy to share all the details with you. 
It is time to share your requirements with your photography experts. If still, you face any doubt or false statements, you direct can connect to as we will take strict against the particular service providers.  
ZoopGo: Download the application to meet various home service, experts 
Apart from wedding experts and fashion photographers in Pune, we also deal with other home service experts including home cleaning, car cleaning, pest control, renovation, and AC repair facilities. Install our application and find each home service at your fingertips. Meet the leading professionals in a few clicks. 
Our program is simple and easy to use. Download it from Google play and meet the leading photographers at your doorstep. With the help of our app, you also make a voice call anytime to grab the best possible solution regarding all the home services. 
Get in touch with the Reliable Assistance and cost-effective solution: 
We are available all day and night to guide our lovely customers. We do understand the importance of special days such as wedding days. We will happy if you are happy and we will be sad if you are sad. So whenever you feel any kind of issue, make a smarter mover and contact our problem solvers by dialing a toll-free number. So get ready to experience a top-class of service abilities.   
One of Our Happy customers: 
This is the feedback shared by one of our customer's overcall: 
Have you enjoyed the service? 
Answer:Yeah, the experience was great while using your application. 
Which was the best part of our service abilities? 
Answer:Your customer care service was awesome. They helped me many times regarding my various issues. 
How was the event, how we suggest Photographer?
Answer:The entire wedding experts team suggest was ZoopGo is amazing. They are professionals with a really good sense of humor. 
So are you fully satisfied with our services? 
Answer:Yeah, I am. Thank you for making my day special. 
Would you like to contact us again in the future? 
Answer:  Yes for sure, even I have already suggested your application to 2 of my good friends. They also were presented at the event and were impressed with the services.