Hire the best makeup artists in Pune through ZoopGo to look your best!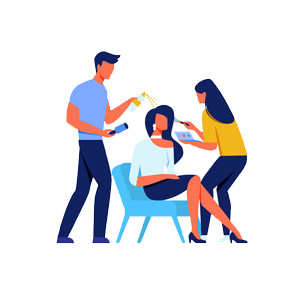 "You look PHAT (pretty hot and tempting)!" Women actually adore this compliment. They want to look pretty and dazzle everyone with their looks. Even though there are many different vlogs available on YouTube today, applying makeup like a pro is not easy. So, be it special or social, you must hire professional makeup artists in Pune through our portal, ZoopGo, to glam up your look. We at ZoopGo, India's most liked and most rated web aggregation platform, brought thousands of professional, well-established, and verified makeup artists to our platform so that you enhance your beauty and looks. 
The top 5 bridal makeup trends - 
Dear bride-to-be, you may be influenced by your friend's big day makeup or your favorite celebrity wedding makeup look. But since it's your dream day, you need a look that reflects your uniqueness and your personality in the best way possible. A professional makeup artist in Pune will definitely help you discover and achieve the desired look. Here are the ultimate five bridal makeup trends that are ruling the industry now and will continue to do so.
Instead of donning a thick coating of makeup on their wedding day, brides are choosing to wear minimal makeup. 
Another popular style that women are choosing for their nuptials is dewy makeup.
Bold eye makeup paired with nude lips is what many brides have been adopting for a long time, and this look will be getting forward for years to come. 
Beautiful brides are embracing the trend of soothing pestle smokey eyes, which appear to be the best of both worlds.
Another makeup style that modern brides most frequently ask for is more eyeliner and lashes.
Getting the desired look is no more expensive! 
Want to dazzle the crowd with your look but on a budget? Take a chill pill. ZoopGo has got you back. We provide you with various free quotes from top party makeup artists in Pune that best suit your needs and budget. You can compare those quotes and save up to 25% on your booking. 
Factors determining makeup artists' charges in Pune
Makeup charges vary from makeup artist to makeup artist, their experience, type of event, makeup style, extra accessories, etc. Average makeup artists' charges can range between INR 5000 and INR 25000. If you are looking for a bridal makeup artist in Pune with price, let us tell you that you can expect to pay anywhere from INR 15000 to INR 40000 or more.
Exclusive offerings in a nutshell!  
First free four quotes from 100% verified makeup artists
Excellent chance to compare and save up to 25% 
Dedicated around-the-clock customer support 
Last minutes booking facility available
Get actionable insights from the review dashboard 
Makeup services at the most competitive prices 
You are just a few steps away from getting your desired look! 
Call us at 1800-12312-9655 (Toll-free) or share your requirements by completing the available quote request form on our site to book the best makeup artists in Pune near me.  Additionally, you can write to us at [email protected].