Scout best Event Organizers in Pune to plan a most talked event only at ZoopGo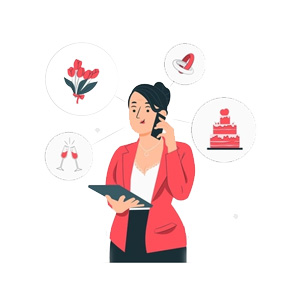 What makes an event successful in all aspects? Planning and organizing things ahead of time. Well, that's true but who will execute the things you have planned for your grand event? An event planner. Yes, for that reason, ZoopGo comes up with the top-notch event organizers in Pune who will assist you from scratch. You can even connect with multiple event planning professionals and get free quotes from them on our online web portal. 
How ZoopGo assists you to get in touch with the best event management companies near you?
We at ZoopGo are known for the best in business and we are dedicated to providing you with premium quality services in which you don't get a chance to complain. 
How do we work?
Select the services of event management that you need.
Read reviews and ratings to select the best.
Choose a date, day, and location to plan your event.
Get free quotes from several service providers.
Book and confirm the details. 
On our platform, it is very convenient to find event management companies in Pune or near your respective locality. 
What are the types of services offered by top event planners in Pune?
There is a diverse range of services from which you can choose your service type. 
Wedding planning
Festive event
Birthday party
Corporate event planning
College fest planning
Theme-based event planning
Special occasion celebration
Private party planning
Hence, these above are the list of services offered by top event planners in Pune. ZoopGo will never disappoint you with its services as it will connect you with verified service providers only at an affordable price range. 
What are the key responsibilities of an event management organization?
Generally, when you plan any event or special festivity, you need to plan things beforehand so that you won't be in trouble in the future. This is also true that one cannot do it all alone that's why event planners in Pune are much needed to do it all. 
We have composed a list of responsibilities performs by event planning companies: 
They understand your requirements and focus on details.
They even book and negotiate with vendors on your behalf. Be it caterers, photographers, decorators, travel agents, waiters, or other personnel services. 
Coordinate with clients on a regular basis.
Book venues or locations for the event. 
They plan and organize the event smoothly. 
Keep track of the expenses and budgeting. 
Always ready with a backup plan in case of unforeseen circumstances.
In the case of destination weddings, they book travel tickets for your invitees, and hotels, and prepare every little thing ahead of time.
Now you have all the reasons to book event planners near me in Pune to save your precious time. Get connected now with the best services available online at ZoopGo. Charges are on a budget and you can pay service providers via multiple payment methods.