ZoopGo: Your Trusted Destination for Booking Quality Car Repairs in Pune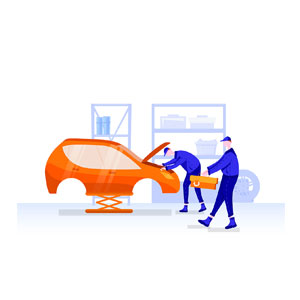 Are you in need of reliable and professional car repair services in Pune? Look no further than ZoopGo! We are a trusted online platform that connects you with the reputed garages providing comprehensive car repair in Pune and maintenance solutions to customers. The garages have a team of skilled technicians, state-of-the-art facilities and ensure that your car is in safe hands.
Why Choose ZoopGo For Car Service in Pune?

1.Expert Technicians: The garages associated with us have highly trained and experienced technicians. They possess extensive knowledge and expertise in diagnosing and repairing various car makes and models. Whether you require routine maintenance, major repairs, or specialized services, the skilled professionals are equipped to handle it all.
2. Comprehensive Services: The mechanics offer a wide range of car services in Pune to cater to all your needs. From engine repairs and electrical diagnostics to brake repairs, suspension work, and AC servicing, they have you covered. Their goal is to ensure that your vehicle is restored to its optimal condition, providing you with a safe and reliable driving experience.
3. State-of-the-Art Facilities: The garages have invested in modern equipment and tools to deliver efficient and precise repairs. They have advanced diagnostic tools that enable them to accurately identify any issues with your vehicle, allowing them to provide effective solutions. With well-equipped facilities,  Pune garages strive to deliver superior workmanship and quick turnaround times.
4. Genuine Spare Parts: The car garage service providers in Pune understand the importance of using high-quality spare parts for your car repairs. That's why they only source genuine parts from reputable suppliers, ensuring the integrity and longevity of your vehicle. Our car garages in Pune are committed to using authentic spare parts guarantees that your car receives the best components available in the market.
5. Transparent Pricing: The service providers believe in transparency and fairness. They provide detailed estimates for all their services, ensuring that you have a clear understanding of the charges involved. Their team will explain the repair process and any necessary replacements, so you can make informed decisions about your car's maintenance and repair needs.
6. Timely Service: The car garage companies value your time and strive to provide prompt and efficient service. Their team of expert car mechanics in Pune works diligently to complete repairs within the agreed-upon timeframe, minimizing any inconvenience caused to you. They understand the importance of having your car back on the road as soon as possible, and prioritize timely service without compromising on quality.
7. Customer Satisfaction: Customer satisfaction is the top priority of the car garages in Pune. They are dedicated to providing personalized attention and excellent customer service. Their friendly staff will address all your queries, discuss your car's condition, and keep you informed throughout the repair process. They aim to exceed your expectations and earn your trust as your preferred car repair provider in Pune.
How to Book Pune Car Repair Companies Through ZoopGo
Getting your car repaired at ZoopGo is a simple and hassle-free process. You can reach out to us through our website or call on our toll free number 1800-12312-9655. We will assist you in scheduling an appointment at a time convenient for you. 
Trust ZoopGo For Connecting You With Reliable Car Repairs in Pune
When it comes to car repairs in Pune, ZoopGo is your go-to destination. Our associated car garages with their skilled technicians, comprehensive services, state-of-the-art facilities, and commitment to customer satisfaction ensure that your car receives the care it deserves. Trust them with your vehicle, and they will strive to exceed your expectations, providing you with a safe and reliable driving experience.