Best Doorstep Car Cleaning Services in Pune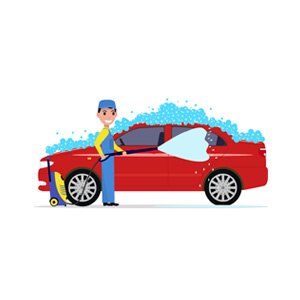 A car is not only a driving machine but a second home. The moment we bring it home, we start creating memories with it. Also, we spend a significant amount of time behind those wheels. So whether your car is small or big, taking care of it is compulsory. Investing in professional car cleaning services in Pune is the best way to provide the ultimate protection that a car deserves. At ZoopGo, we connect you with the best car cleaning service providers in Pune, so that you can keep your car in ship shape.
With 45000+ happy customers, 1500+ service providers, We are India's top-rated home-service portal and have been providing services for over ten years now. Thus, you can choose us for your complete car cleaning needs.
3 main reasons to invest in professional car cleaning services in Pune -
1. To prevent wear and tear - Dirt, dust, and spilled liquids can ruin a car's interior and upholstery and create an ideal breeding ground for bacteria, germs, and viruses. However, you can keep your four-wheeler in great shape by acquiring complete car cleaning services in Pune every once in a while.
2. To prevent health - Your car will accumulate dirt and dust if you neglect its interior cleaning. It could create poor health quality and cause allergy and respiratory diseases. Professional cleaners help you to keep your car healthy from the inside out and prevent health issues.
3. To preserve the resale value - How you keep your car can impact its resale value significantly. So, if you want to sell your car in the future, you have to get it cleaned professionally now and then to preserve its resale value. A well-maintained car will be much more appealing to potential buyers.
4 Main reasons to choose ZoopGo for booking car cleaning services in Pune -
1. Verified Services - You can find several car cleaning companies in an instant with a simple Google search. However, their appearance doesn't approve of their authenticity. Therefore, ZoopGo. Car cleaning service providers listed with us are pre-certified and licensed. Thus, you can rest assured about the quality cleaning services. You can book both car exterior and car interior cleaning services in Pune.
2. Free quotes - We value your time! Through us, our customers can obtain free quotes from the top four car cleaning service providers instantly. You can check and compare those quotes and shortlist them precisely.
3. Unbiased reviews - We pride ourselves on providing transparent services! Through our Dashboard feature, you can read reviews about each service provider and get actionable insights into their business. Moreover, with us, you can book the best car exterior cleaning services in Pune.
4. 24/7 Support - We provide 24/7 technical and remote support to provide a more convenient service for your customers.
For any questions or queries, feel free to reach out to us on our toll-free number 1800-12312-9655, and we will gladly answer them.
Which are the locations in Pune, where ZoopGo Car Cleaning Service Providers are Available?
Kalyani Nagar, Aundh, Model Colony, NIBM Road, Viman Nagar, Magarpatta City, Model Colony, Shivaji Nagar, Deep Bangla, Patwardhan Baugh, Karve road, Ahastri Road, Baner, Pashan, Balewadi, Panchwati, Sakal nagar, Bavdhan, Warje,  Sus, Shivane, Kothrud, Karve nagar, Deccan,  Prabhat road, FC road, Bhalerao road, Law collage Mitra mandal,  Koregaon park, Pune station, Sinhgad road, Wakad, Bhugao, FC road, SB Road, Khadaki, Pimpri, Dapodi, Pimple Soudagar, Ravet,  Wakadewadi, Landewadi, kivale, Punavale, Wakad, Vishal nagar, Rakshak Nagar, Sahakarnagar, Sakalnagar, Bibwewadi, Mukund nagar, Koregaon park, Pune Cantonment, Manikbag, Nanded City, Aranyeshwar, Marketyard,  Dhankaeadi, and Katraj