Hire Best and Verified Providers of Car Repair in Noida Through ZoopGo and Increase Value of Your Car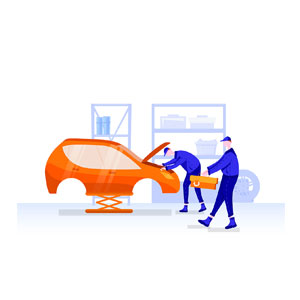 For the majority of people in Noida, a car is without a doubt one of their most valued assets and significant investments. It is crucial to preserve its worth, which can only be done by performing routine cleaning and maintenance. No matter what kind of car you drive—luxury or regular one, poor maintenance can ruin both the exterior and interior appearances of your vehicle that will ultimately lead to depreciation. Looking after the maintenance requirements of your car is crucial in this circumstance to keep it in the best shape. A busy schedule, however, makes it impossible to look for reputable providers of car repair in Noida and take care of your maintenance related requirements. This is where ZoopGo comes to your rescue as you can get instantly connected with the verified car repair service providers in Noida and have a stress-free experience.
Why Hire a Home Car Repair Service in Noida Online?
There is nothing better than a clean, well-maintained car. However, due to a lack of professional experience, regularly cleaning and repairing your car takes a lot of time and work. Booking a reliable provider of car service in Noida therefore makes perfect sense. One of the fastest growing online platforms, ZoopGo, allows you to connect with qualified mechanics who are familiar with your car and keep it in top shape. You can use it to post a request for all your car repairing requirements and receive offers or quotations from the verified service providers offering quality services near your location. Booking the car repair and maintenance specialists is simple using the ZoopGo app or website.
Why Select the Best Provider of Car Repair in Noida
Getting your car repaired on a regular basis will keep it in great shape. Regardless of whether you drive a hatchback, a luxury vehicle, or an SUV, it is crucial to hire the top providers of car repair and maintenance in Noida for the reasons listed below:


Prevent Depreciation of Car: One of the most important justifications for scheduling a car repair is to avoid depreciation. Due to negligence, if you are not able to look after the maintenance of your car, then it might cause internal and external damage to your vehicle, which could lower its resale value. Therefore, it is recommended to have the car repaired by searching for the professional providers of car repair near me to keep it in good condition.
Protect the Interior and Exterior of the Car: When you schedule a booking with the providers of car repair in Noida, the experienced experts complete their work meticulously. They utilize a variety of services, including denting and painting, windshield and glass repair, detailing services, periodic services and many more. The interiors and exteriors of the car are kept properly through proper or routine repair work.
Maintain Regular Fitness and Health of the Car: Repairing your car is essential to keep it running smoothly in the same way that you take care of your body by engaging in regular exercise and consuming nutritional supplements. If the car is not maintained on the regular basis, then it may develop some problems over the period of time and you may shell out a considerable amount of money for the maintenance work. Therefore, it makes more sense to hire the providers of car scratch repair in Noida to ensure your car stays in shape.  
Usage of Quality Tools: High-quality equipment is used for the purpose of getting your car repaired by the service providers to guarantee that the vehicle runs smoothly without any hassles. The quality of the tools or chemicals used is not at all sacrificed whether you choose car detailing, interior cleaning, or exterior cleaning service.
Why Zoopgo for Hiring Noida Car Repairing Service Providers? 
Verified Professionals: Zoopgo ensures that you will only get connected with the verified Noida car repair service providers. To guarantee that you receive the best service possible within your price range, the service providers undergo a rigorous background check. 
Modern Equipment: If you choose to have your car pressure washed or have the interior cleaned, the equipment utilized by the providers of car service in Noida is of the highest quality. 
Competitive Pricing: The providers of car repair in Noida offer quality service providers and competitive prices that fit your budget. There are no unforeseen fees.
Maximum Client Happiness: The providers of car repair and maintenance in Noida who are listed with us have a strong track record of providing maximum customer satisfaction. Their courteous and well-trained personnel makes sure that consumers have no cause for complain
It is obvious that ZoopGo is among the best platforms to swiftly put an end to your search for the best providers of car repair in Noida. Do not waste your valuable time and money looking for local or fake service providers. With us, all you have to do is choose the kind of repair service you need, pick a convenient time and place, and you're good to go. Next, get quotations from three to four different car maintenance service providers in Noida, compare the costs, and choose the one that fits your proposed budget.