ZoopGo: A smart move of Car Cleaning Services in Noida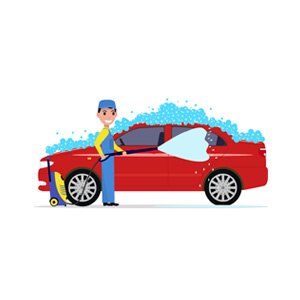 How does it feel when your car sounds vroom? Only a true vehicle lover understands this. However, buying a new four-wheeler is like spending your annual saving but maintaining it year over year can be challenging. Rather it's washing or deep cleansing; ZoopGo provides you better cleaning services in Noida. How? There are hundreds of professional automobile washing company's lists on our online portal that will be beneficial according to your requirement. 
Whenever we buy our favorite bike or car we all fulfill our travel wishes for road trips and also put accessories and stickers on it. In that way cleaning requires. We all can wash our vehicles but there's a thin line difference between professional cleaning and car washing my own. So, at least once a month it will be beneficial to get a professional cleaning session of your car. Yes! As we require a spa every month our four-wheeler also requires deep cleaning.  
Do you really care about your car?
Well, Investment in your car is a fixed asset. But the maintenance requires a lot. There're many things to do that makes your old vehicle new and classy:
Car detailing 
Washing 
Protecting the surface of your car
A gloss that makes them shiny
Car underbody treatment 
Internal fixtures 
Or more 
Let understand the procedure in detail!
As we know that visitors can find reputed car caring companies on and book them ZoopGo. Know the different types of vehicle maintenance.   
It's a pressure spray washing technique that removes mud and sticky dirt particles. Car pressure washing is highly recommended during monsoon or harsh weather conditions. 
Hence, it is easy to use techniques that reduce scratches and makes the surface of your vehicle glossy and smooth. Car rubbing polish contains micro-abrasive technology that fixes the imperfections of paint and enhances its value of reselling. 
The smaller and deeper the area it requires more extensive cleaning. The entire Car interior cleaning is the procedure of vacuuming and brushing the tightest areas and AC, doors, mat, or more. It includes air refreshers that reduce stinky smell or more. 
It's a simple procedure of car exterior cleaning with the use of wax or other surface-friendly products. You should ask about the procedure and quality of your nearby car cleaning services to get a better value for your money. 
From the top to the bottom, it's a procedure of deep cleaning your expensive four-wheeler. It contains washing and vacuuming, restoring its original look or more. 
Tar
Sap
Bug
Tire
Rim treatment 
Leather conditioning 
Shampooing 
Waxing
Appliance of protectants 
Or more 
Now you know about how deep or basic cleaning works. Accordingly, you can ask one of our best cleaning services in Noida. If you find one then contact us on our Toll-Free number: 1800-12312-9655, or email us at [email protected]. Our online portals accurately offer you better options according to your expectations and budget. Shortlist one of your recommended providers we will finalize them immediately.