Get Party Ready and Glam Up Your Look With The Best Makeup Artist in Navi Mumbai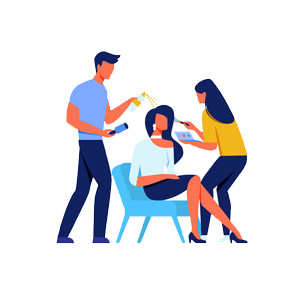 Every individual dreams to look 'WOW' and be the center of attraction on the special day whether it is the wedding, fashion event, birthday party, anniversary all that requires a professional 'Magic Touch', which is provided by the best makeup artists in Navi Mumbai. The makeup when it is applied in the right manner can go a long way in adding stars to your beauty and personality, you will get tons of appreciation.
Why Do You Need to Hire Makeup Artists in Navi Mumbai?
To make sure you look perfect at your event or party, you require an outstanding makeover. A lot depends upon hiring the top Navi Mumbai makeup artist near your location who can enhance your beauty and dress you up exactly you desire so that you look an excellent version of yourself at the party. When you notice that the guests cannot take their eyes from you, then it simply provides you a lot of satisfaction.
Why Hire Best Makeup Artist in Navi Mumbai From Zoopgo?
If you are planning to host a wedding anniversary party very soon and most importantly want to look gorgeous, then it is vital to hire a reliable party makeup artist in Navi Mumbai before they are all booked. However, if you are stressed about burning a hole in your pocket, then there is no need to get worried when Zoopgo is here to help you out. Check out the various reasons to hire the top makeup service providers in Navi Mumbai from us and have a stress-free experience:
Professional and Well-Trained Makeup Artists: The Navi Mumbai makeup artists associated with us go through a strict background verification process and are experts in their field.
Usage of Quality Products: The professional makeup artist in Navi Mumbai only uses genuine cosmetic products depending upon your skin tone and other requirements.
Best Doorstep Service: A reputed makeup artist will be available to your venue with their makeup kit at the selected time and date.
How Does Zoopgo Help to Shortlist and Book Makeup Artists Near Me Easily?
Finding a reliable makeup artist in Navi Mumbai can prove to be a challenging task, especially when time is a major constraint for you. However, Zoopgo has made the task finding and hiring the experienced service providers easy in just a few simple steps, which are as follows:
Visit the Zoopgo portal or mobile application
Provide all the necessary details by making use of the available filters
Get connected with the professional makeup artists in Navi Mumbai instantly
Check out their reviews, compare the charges and hire the best one that perfectly suits your requirements. 
Important Things You Should Know When Booking Navi Mumbai Makeup Artists
If you are hiring the fashion makeup artist in Navi Mumbai for the first time, then it becomes all the more important for you to know some vital things to consider when making plans to hire the top makeup artists in Navi Mumbai:
Know Your Budget First: It is one of the foremost things that you must definitely consider. This is because there are many artists available charging different rates for their services. You must know the kind of makeup service you require, set a budget and then hire the artist accordingly.
Checkout For Any Kind of Skin Allergies: There are chances that some of you might have trouble with skin allergies or infections. In such a situation, you must first check out the kind of cosmetic product that will be perfectly suited for your skin type and ask the makeup artist to use the same product.
Make a Research About the Best Makeup Artists: If you want to look absolutely stunning in your party, then you must make it a point to at least research for the top 10 makeup artists in Navi Mumbai, compare their services or charges and hire the one that suits your need and budget.
Prepare a Checklist of Questions: Again this is a very important point that you must remember when hiring the makeup service providers in Navi Mumbai. Make a checklist of the questions that you have in your mind and ask them to the makeup artists to have a stress free experience. If you have any other questions in your mind then do not hesitate to ask with the artists to avoid inconvenience later on.
Experience the Best Makeover From Top Makeup Artist in Navi Mumbai Through Zoopgo
It cannot be denied that a well-applied makeup completely transforms the look, style and personality of an individual. If you are planning an event or your marriage date is fixed, then it is the time to end your search for the professional makeup artists in Navi Mumbai through Zoopgo by filling up a short form and glam up your look.