Innovative and Qualified Car Services in Navi Mumbai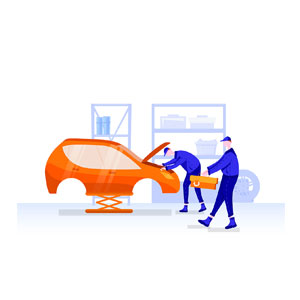 ZoopGo is the leading resource of car repair services in Navi Mumbai. We provide an array of basic, regular and advanced car service packages to the customers and vouch for the quality.  The car repair services rendered at car garages in Navi Mumbai come with variety and delivered by the professionals, and the gamut of these services include Wheel Care, Denting and Painting, Car Cleaning, Car Wrapping, AC Service, interior vacuuming and dashboard polishing apart from periodic car repair services.
At ZoopGo, our strategic partnership with the leading car repair services in Navi Mumbai has paved a new way for the prospective customers to enjoy value for their money and comfort of selecting the best service provider nearby their homes or offices.
Personalized Car Service
Cars are personal possessions and these have to be treated with extreme care. ZoopGo shares the same feeling about your car just as you feel it.  We have partnered with premium car service providers who are the auto experts and above all they have experience in dealing with all types of car issues. At ZoopGo, the customers can select their own Car Repair Services in Navi Mumbai breaking all the hassles. With the help of new age technologies, customers have personalized way of servicing their cars.
Genuine Car Repair Services
ZoopGo understands the importance car services and sensitivity involved in car repairs. We deploy rigorous inspection procedures to list elite car repair services in Navi Mumbai in our database. We take the trust, ratings, and the costing involved in car services very seriously. In the end, ZoopGo plans in advance and works on the strategies to provide the customers with only the exclusive and genuine car repair services.  And above all we also provide post service care to the customers, whereon the customers remain connected with us for instant remedies in case of technical issues. 
Transparent Pricing and Genuine Services
There are car mechanics in Navi Mumbai that provide end to end car repair in Navi Mumbai but the pricing model is not transparent. They will charge hidden fee and at times this fee turns out to be overwhelmed by the price tags. 
Best Car Repair in Navi Mumbai Only a Call Away
Is car repair your concern? Do you want to opt for a regular car service? You can get connected to ZoopGo. We have diligent customer support team available that works on your requirements and get you through an awesome experience never like before.  Make a call now and the only thing that would come up next is the list of car repair services in Navi Mumbai. In the end, we take pride in our customers, who feel happy and dazed after using car mechanics in Navi Mumbai. overwhelming. The car owners live in the delirium when they come to know that the spare parts used are neither OEM nor OES types.
With ZoopGo, you will come across Car Repair Services in Navi Mumbai that are class apart and give peace of mind. You have the defective car parts replaced with genuine OEM nor OES spares. Moreover, the service providers listed at online directory are experienced, highly skilled and customers will not be .